I was chatting with a friend the other day and he told me he's trying out the Keto diet. I immediately thought back to my low carb days and about all the bread he wouldn't be eating. I'm all about enjoying things in moderation. That's where my trusty air fryer comes in handy. It crisps food up to perfection without the need for loading things up with oil or deep frying. I couldn't be more excited to share my little creation of Vegan Air Fryer Sesame Mogo Toasts with you. These golden triangles are the perfect thing to make in the air fryer. The heat circulates around the bread so it crisps up evenly on all sides.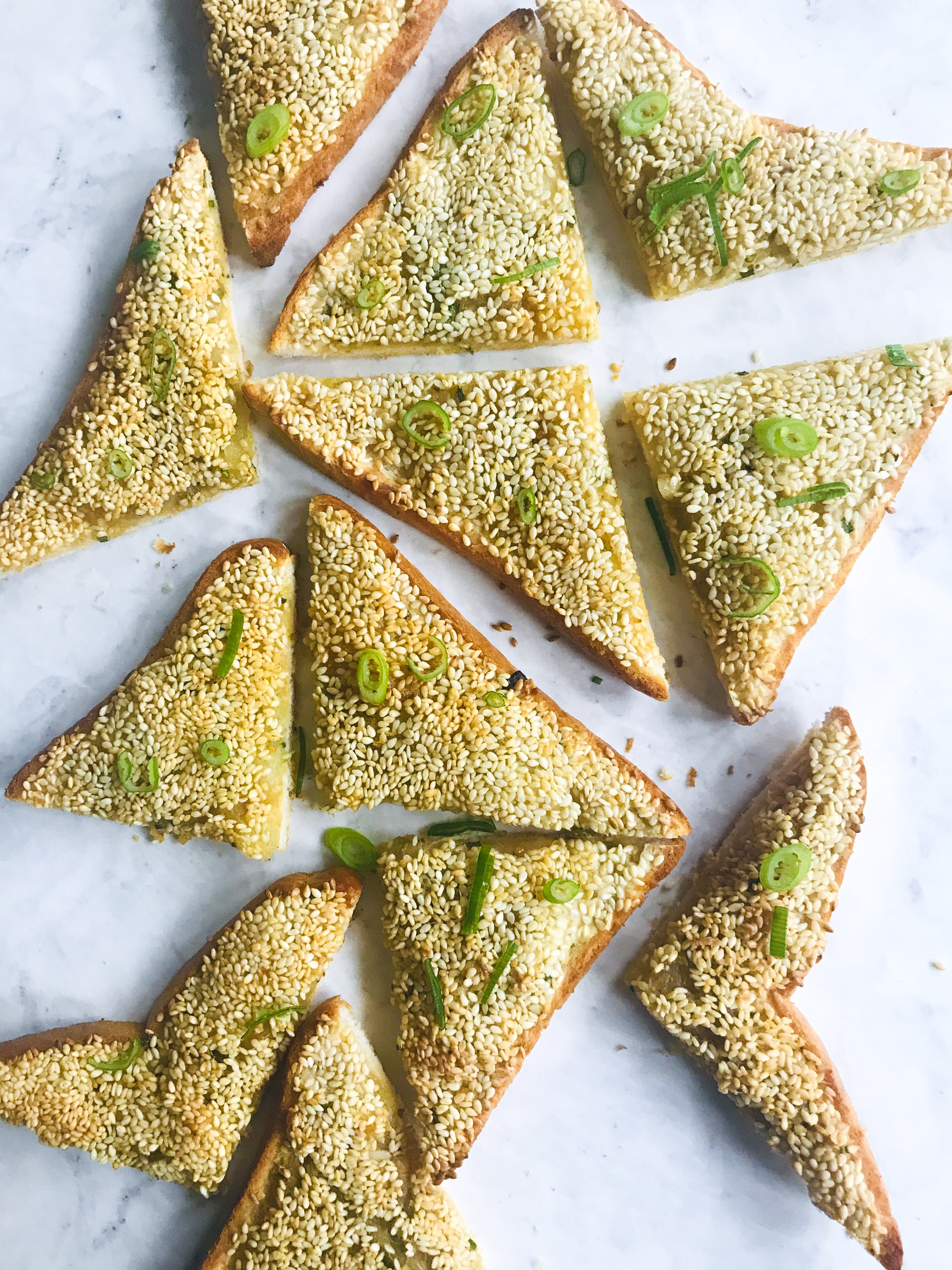 I like to butter the base for a super toasty finish without it getting too dry (I use soft vegan butter from a tub or you can use regular butter if you're not vegan). These vegan sesame toasts are loosely based on the much-loved Sesame Prawn Toasts or Shrimp Toasts you get in Chinese restaurants.
So what replaces the shrimp?
I spent ages thinking about what could replace the sticky shrimp that tops the bread before it gets dipped in a sea of creamy-coloured sesame seeds. Mogo (also known as cassava) was the winning answer! The rich texture of mashed mogo (pronounced Muhogo in Swahili to those from East Africa) is the perfect natural glue to capture hundreds of tiny sesame seeds. It also has a neutral flavour so you can spice up the mixture however you like. I went for a bit of a Desi Chinese/Indo Chinese mix, using ginger, spring onions, chillies, coriander, lemon juice and soy sauce. You can also add a pinch of garam masala or Chinese 5-spice if you like. After slathering sliced white bread (or brown bread if you prefer that) with the spiced mogo mash, I pressed it face-down in a sea of sesame so it stuck to it like beads to glue. It reminded me so much of doing arts and crafts at school! Of course, you can use any bread you like, as long as it's thin or medium thick slices from a loaf. Super chunky rolls might throw the bread:filling:sesame ratio off.
The beauty of these golden toast triangles is that they're not deep fried like conventional sesame toast from takeaways and restaurants. I popped them right into the basket of my air fryer for a crazy-crispy finish without all the grease. They're light, buttery and so perfect as a party starter or just with chai. If I was throwing a vegetarian Indo-Chinese dinner, I'd make these Air Fryer Mogo Toasts alongside Chilli Paneer, Vegetable Momos, Garlic Mogo, and Tofu Noodles.
It's such a simple recipe to make.
I start by boiling frozen mogo (cassava) in salted water until very tender, then drain and mash immediately using a potato masher. You can use fresh, peeled mogo if you have access to that. If not, pick up a bag in the frozen section of your local supermarket. It is sometimes labelled Yuca too. The reason why you need to mash it straight away is because as it cools, the starches in the mogo get to work, making it difficult to mash effectively. I don't recommend using a food processor because it will become glue-like in consistency. Just go in with a potato masher and remember that a few small lumps are fine.
Next, I add the following ingredients: finely chopped spring onions (white and green parts), chopped chillies, grated ginger, lemon juice, chopped fresh coriander, light soy sauce and a little bit of salt if required. Taste the mixture to see if it needs the salt before you add it as the soy sauce is salty. Like potatoes, mogo calls for a generous amount of seasoning. You can also add a pinch or two of garam masala or Chinese 5-spice if you like but it's great without if you don't have it. I personally like to make it without. Give everything a good mix.
Now, take a slice of bread and butter one side with softened butter. I use softened vegan butter from a tub but you can also use regular butter if you're not vegan. This buttered side will be the base of the toast. Place it on a plate, buttered side down (some of the butter might come off onto the plate a little but don't worry about that). Spread the naked (unbuttered) side with 2-3 tablespoons of the spice mogo mash and use a knife or the back of a spoon to spread it out evenly. Be sure to take it right to the edges of the bread.
Pour out some sesame seeds on to a separate plate and place the bread, mogo face down right on top of the seeds to encrust the entire surface. Pick the bread up and make sure all the seeds are pressed in (be gentle!). Set aside and repeat for the remaining bread slices. My recipe should make 6 full slices of toast (to be cut into triangles later) but it will depend on the size of your bread slices. In any case, the recipe should feed 4-6 people as a starter/appetizer.
Pre-heat your air fryer to 200ºC for 3 minutes to get it nice and hot and place your first slice directly into the basket, sesame side up. Cook for 4-5 minutes or until nicely golden all over. You can remove it halfway to dab some extra butter on top for extra toasty sesame seeds but that's a personal choice. Remove from the air fryer using a large flat spatula and with a sharp knife, slice into four even triangles. Repeat this process for the remaining toasts. You can keep the toasts warm in a low oven while you make the rest. Serve immediately, garnished with extra chopped spring onion greens.
Don't have an air fryer? Cook the toasts in a conventional oven at 200ºC. Just place the slices on an oven-safe wire rack with a baking tray underneath. This will ensure the heat circulates around the toast evenly, preventing a soggy base.
Ready for the recipe? Let's go!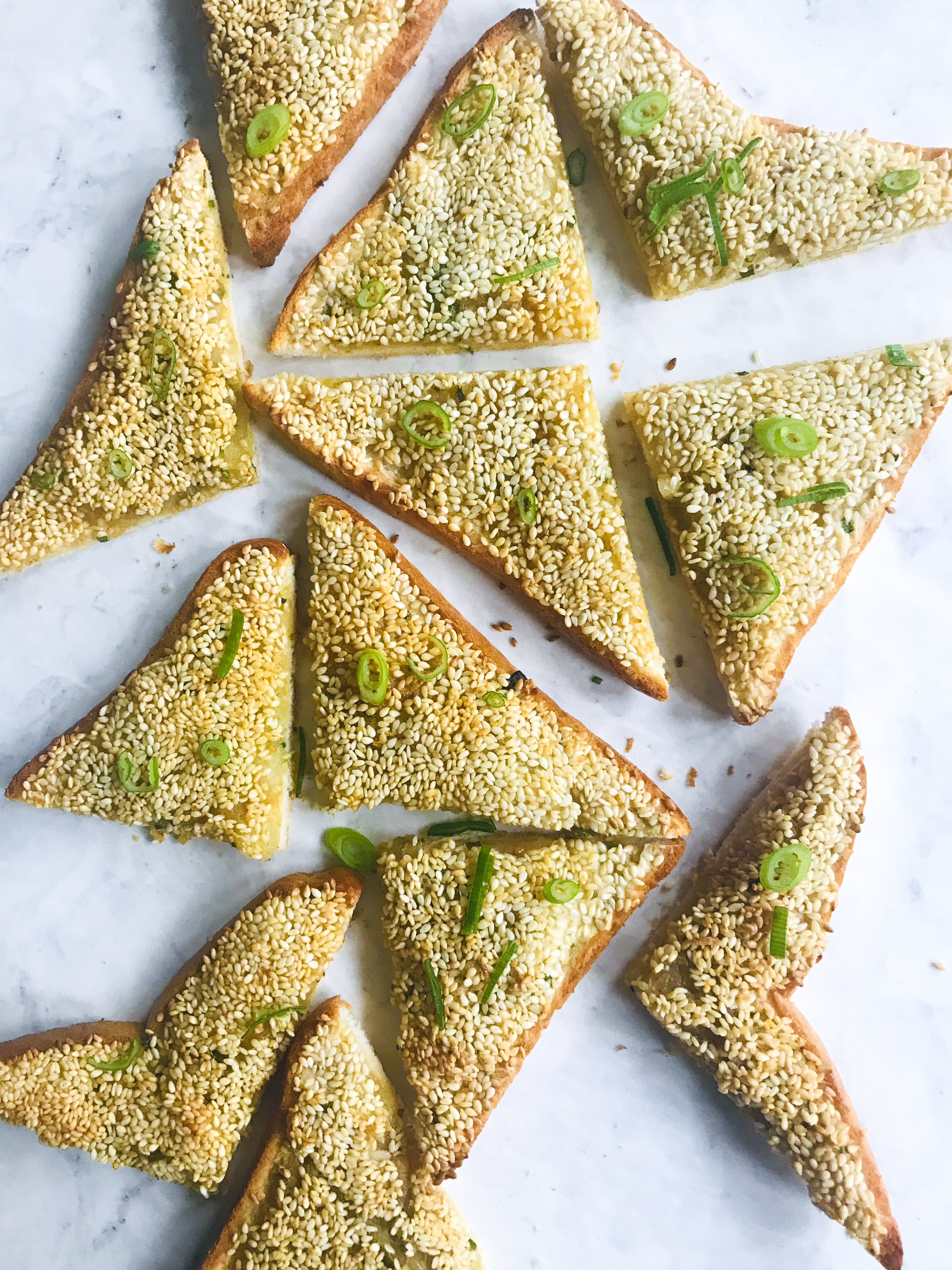 Ingredients
6

slices

white or wholemeal bread

2

tbsp

vegan butter

40

g

white sesame seeds

250

g

frozen mogo

(also known as cassava or yuca)

2

spring onions

(finely chopped)

2

tsp

grated ginger

2

chillies

(finely chopped)

2

tbsp

fresh coriander

(finely chopped)

1

tbsp

light soy sauce

1/4

tsp

salt

Juice of 1/2 a lemon

Extra chopped spring onion greens, for garnishing
Instructions
1. Boil the mogo in salted water until tender. Drain and mash whilst hot (it won't mash if it's cold). You're after a puréed texture but some small lumps are fine. A potato masher is the best tool for this - don't use a food processor or it will become like wallpaper paste.

2. Add the spring onions, chilli, ginger, lemon juice, coriander, soy sauce and salt. Mix thoroughly.

3. Spread one side of a bread slice with butter. Flip it over and spread 2-3 tbsp of the mashed mogo mixture on top, right to the edges. Repeat for all of the bread slices. Remember, the buttered side should be on the base.

4. Place the sesame seeds on a plate and place the cassava side of the bread face down, directly into the sesame seeds to encrust the entire surface. Pick the slice up and keep aside on a tray whilst you repeat for the remaining slices.

5. Place the toast in the air fryer at 200°C/400°F for 4-5 minutes until golden brown. I had to cook one at a time due to the space limitations in my air fryer. You can also cook in a pre-heated oven at 200°C/400°F for 10-12 minutes or until crispy.

Slice into triangles and serve sprinkled with extra spring onion greens. I love these with chai but they also make for a delicious starter for parties.
Love Sanjana