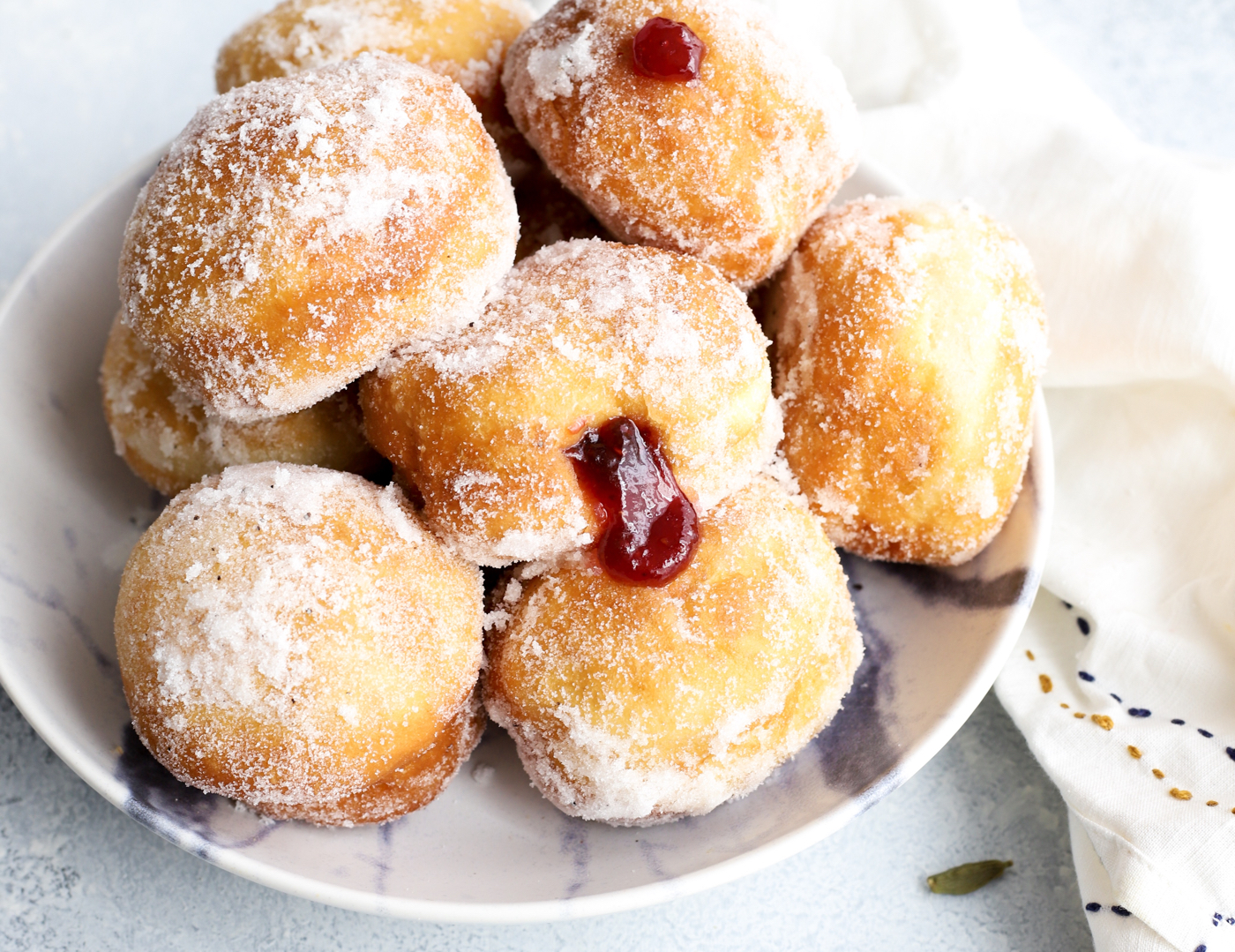 I have a soft spot for doughnuts. Doesn't everyone? My allegiance lies with the pillowy, jam-filled variety with a light sugar coating. It has to be caster sugar as opposed to powdery icing sugar and the jam *must* be raspberry. It's the law.
The smell of fresh doughnuts frying is like nothing else. If they bottled it, I'd wear it as perfume, leaving a faint whiff of "funfair" trailing behind me everywhere I'd go. You'd smell me coming a mile away and know I'd been around hours after I'd gone. From a purely practical point of view (and not at all a gluttonous one), this would also make me a very hard person to kidnap. I should probably stop watching so many Netflix true crime shows.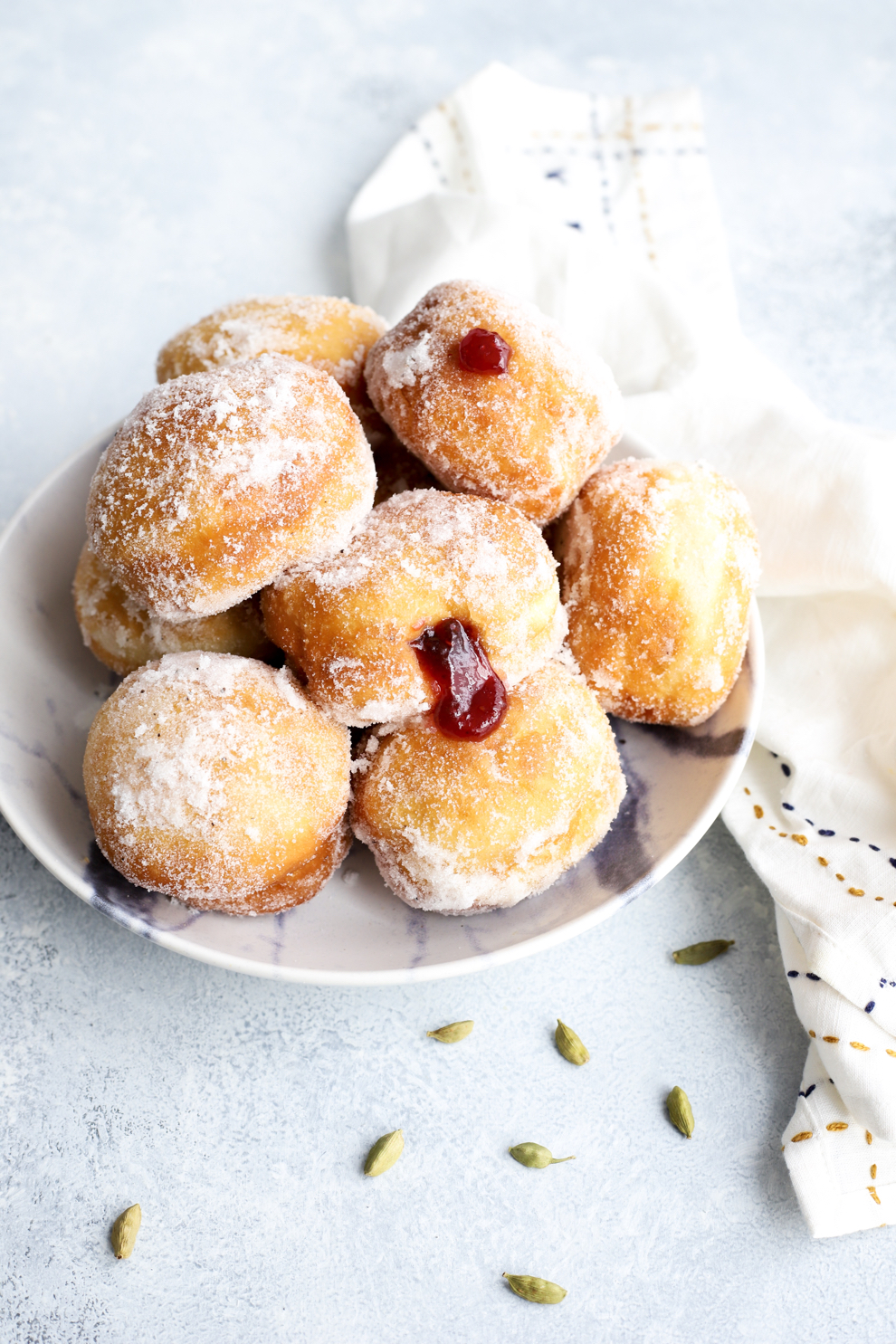 Back to doughnuts.
My vegan doughnut dough has a stretchy-smooth quality, as well as a slight sweetness which I find hopelessly irresistible once fried. Despite being made up of flour, sugar and oil, each pillowy puff is lighter than air. A combination of almond milk, lemon, yeast and baking powder give them an ethereal weightlessness that you only get when you eat them hot, as soon as they're made. I defy anyone to spot the lack of eggs and dairy in this recipe.
In my book, no variety of cakey baked doughnut comes close to the utterly fuzzy feeling you get from eating a yeasted, fried doughnut. It of course, involves hot oil and for you to set aside a bit of therapeutic baking time but there are moments you can break away to catch up on your favourite TV show, drink wine and/or have a power nap. The results are special and not at all cake like. The dough needs to be left to rise and this is when the magic happens. Keep it in a warm place like an airing cupboard or even in the oven with just the light left on inside.
Swap almond milk for soy milk or oat milk if you want to make a nut-free version of these doughnuts — both work beautifully. Over the years I've realised you can add most of the ingredients to the hot milk mixture with little to no compromise on results, which makes the dough-making process much easier. There's no adding of butter in stages involved either. Reserve the salt and baking powder and add them to the flour mixture. Once the warm-ish milk hits the flour, all of those lovely raising agents join forces to work their magic as the gluten in the flour develops through the kneading process. You can use your hands to knead the dough if you have arms of steel and the stamina to do it for 25 minutes or so. I do not have such superpowers and my stand mixer is my friend.
More ideas: You can switch the cardamom sugar for cinnamon sugar and fill these with your favourite thick vegan custard instead of jam. Or better yet, fill them with both jam and custard. I've done this before and I don't want to say everyone liked me more that week, but they definitely did. Vegan lemon curd is also a noble choice of filling and it works particularly well with cardamom sugar. I have also successfully steeped my warm milk with saffron strands for a saffron flavoured doughnut and it was dreamy, like the best marriage of Indian mithai and a classic funfair doughnut. Be creative and report back with your results. I'd love to hear from you.
Pin it for later!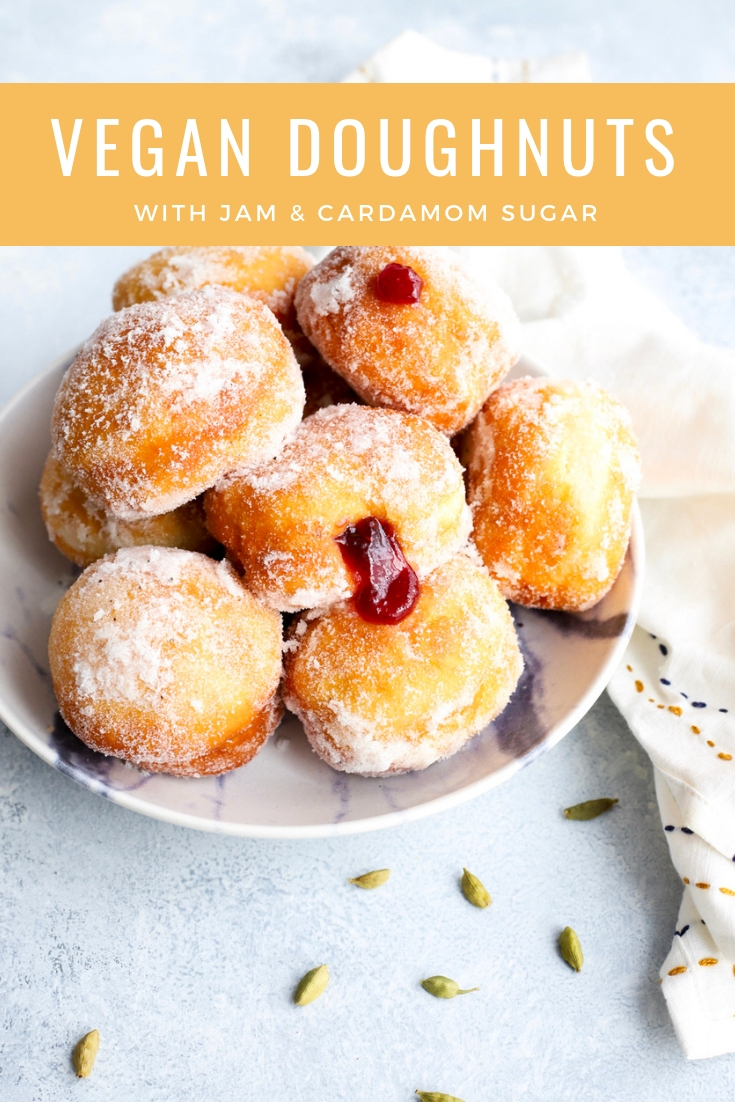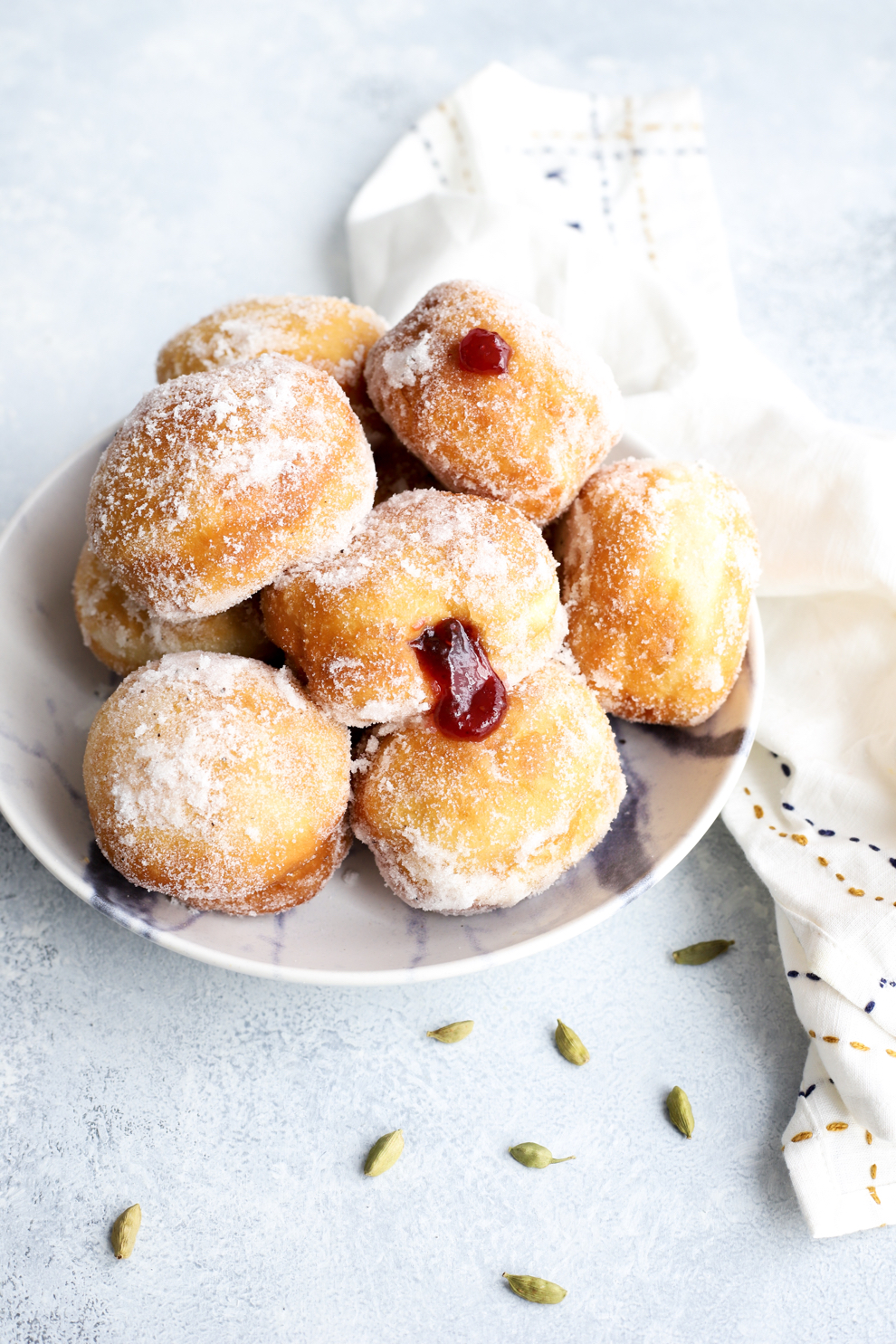 Ingredients
500

g

strong white bread flour

plus 20g for rolling out

12

g

fast-action dried yeast

40

g

caster sugar

100

g

vegan margarine

1/2

tsp

baking powder

1

tsp

fine salt

250

ml

unsweetened almond milk

1

tbsp

lemon juice

2

tsp

vanilla extract

2

L

rapeseed oil

for deep frying
For the filling:
200

g

your favourite shop-bought or homemade raspberry jam

I prefer seedless
For the cardamom sugar:
150

g

caster sugar

4

cardamom pods

seeds removed and crushed to a powder
Instructions
Place the flour, baking powder and salt in the bowl of a stand mixer fitted with a dough hook attachment.

Next, add the milk, butter, sugar and vanilla to a saucepan and heat over a low heat until the butter has melted and the sugar has dissolved. Allow to cool at room temperature to about 38°C/100°F or just warm. Add the lemon juice and yeast and stir. Set aside for ten minutes.

Add the milk mixture to the stand mixer and switch it on to slow. Once the mixture has come together, knead on medium-high speed for 15 minutes. Keep an eye on your mixer to ensure it doesn't overheat or climb its way across the worktop (I speak from experience here). Once the dough is soft and smooth, the dough is ready to proof.

Remove the dough from the bowl and grease the sides of the bowl with a tablespoon of oil. Return the dough to the bowl and cover with a clean, damp tea towel. Allow to rest in a warm place for 60 minutes, until it has doubled in size.

Knock the risen dough back to remove large air bubbles but do not knead it again. Dust your work surface with flour and roll the dough out until it's about 2cm in thickness. Use a round cookie cutter to stamp out circles of dough and arrange on a tray lined with parchment paper. Leave some space between them, as you don't want them to stick together while they prove again.

Cover loosely with cling film and leave in a warm place for for 30 minutes.

To make the cardamom sugar, mix together the sugar and ground cardamom in a bowl.

Fill a heavy-based saucepan halfway with oil. Heat the oil to 175°C/350°F.

When the oil is heated, carefully slide the doughnuts from the tray using a floured spatula. Taking care not to deflate them, put them into the oil. Do 2-3 per batch, depending on the size of your pan. Don't overcrowd the pan. I did 2 at a time.

Fry for 2 minutes on each side until golden brown. They will puff up and float to the top of the oil, so you will need to gently move them around the pan to ensure they colour evenly.

Remove the doughnuts from the fryer and place them on kitchen paper to absorb any excess oil.

Place the jam in a bowl and microwave on high power for 20 seconds. Stir well to loosen slightly.

Fit a piping bag with a medium, round tip. Using a straw, make a small hole in the side of each doughnut, about halfway until it reaches the centre. Fill the doughnut with the warm raspberry jam through this hole, about two teaspoons of jam per piece. Repeat for the remaining doughnuts.

Gently roll the doughnuts in the cardamom sugar until evenly coated. Serve warm.
Sanjana's Notes
Store the doughnuts covered and at room temperature. Best consumed within 24 hours. Will they all be eaten before then? Definitely.