These Vegan Lemon Meringue Cupcakes are fluffy, tender, moist and SO delicious! I'm sorry for using the "M" word. I'm told it's okay when you're talking about cake.
When it comes to baking, the more lemon that's involved, the better as far as I'm concerned. I've never met anyone who didn't go weak at the knees for a slice of lemon drizzle cake or three. Have you?
Why is Lemon & Saffron such a great flavour combo?
One of my favourite flavour combinations has to be lemon and saffron. The humble, sharp lemon against the heady fragrance of saffron is such a winner. Whether you're cooking something sweet or savoury, the two ingredients together are the perfect marriage of colour, taste and aroma.
Sweet is most certainly my preference because once baked, they mingle with the smell of toasty flour and fill the house with the most gorgeous baking scent. It's pure and strong, unlike if you were making a savoury dish with 10 other spices.
In the past, I've successfully combined the two to make cheesecakes and seeroh (sweet semolina) which were both delicious. This time, I wanted to give a simple cupcake recipe a special makeover. They're light, fluffy and so moreish.
How to make vegan lemon curd
Each fluffy sponge is filled with a golden-hued saffron lemon curd which I veganised with cornflour, coconut oil and coconut milk in place of eggs and butter. Use unrefined coconut oil to ensure the flavour of coconut doesn't overpower the rest of the ingredients. It's the saffron that gives it a pretty daffodil colour. If you have any leftover lemon curd, pop it in a jar and spread it on toast or scones for a special tea-time treat. It really is spectacular.
The best Vegan Lemon Meringue Cupcakes
These Vegan Lemon Meringue Cupcakes are a little riff on the Vanilla Birthday Cupcakes I posted a while back. It's a straightforward one using almond buttermilk to give the cupcakes lift. If you have any questions about the cupcake baking process, check here for lots of detail (can you tell I could talk about baking forever?).
The meringue might seem daunting at first. However, once you have all your ingredients laid out in front of you, it's very simple. You'll need a stand mixer with a whisk attachment or robust electric hand beaters to get that meringue whipped up perfectly. Reducing the aquafaba and adding agar-agar will give it more stability and the cream of tartar and sugar will help it whip into a sweet cloud of fluffiness. I used a kitchen blowtorch to toast the tops but if you don't have one, you can pop them under the grill for a 15-20 seconds — just be sure to remove the cupcakes from their paper cases first!
These are perfect for parties, bake sales and for when you just want to eat a cupcake or three, alone, on your kitchen floor.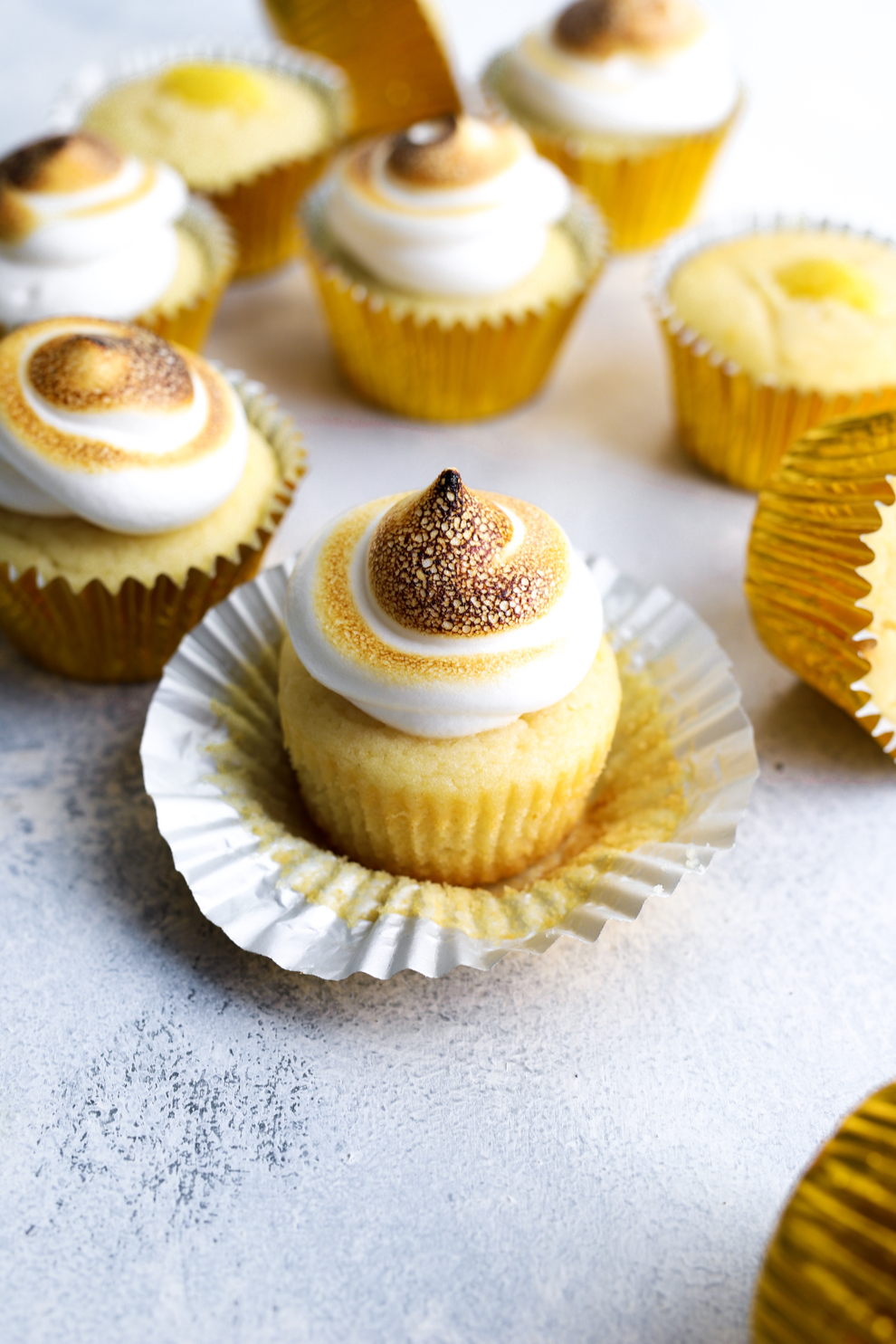 Ingredients
For the cupcakes:
225

g

extra-fine self-raising cake flour

160

g

caster sugar

1

tbsp

+ 1 tsp cornflour

1/4

tsp

baking powder

1/8

tsp

fine salt

250

ml

almond milk

room temperature

Zest of 1 lemon

30

ml

lemon juice

110

ml

rapeseed oil

or any flavourless oil of your choice
For the saffron lemon curd:
50

ml

lemon juice

Zest of 3 lemons

75

g

icing sugar

20

g

cornflour

30

g

refined coconut oil

50

ml

coconut milk

Pinch

of saffron
For the meringue:
100

ml

aquafaba reduced from 200ml

chilled

1/4

tsp

cream of tartar

100

g

caster sugar

25

ml

water

25

ml

agave

2

tsp

vanilla extract

1/4

tsp

agar-agar
Instructions
Pre-heat the oven to 175°C/350°F/gas mark 4.

Line a 12-hole cupcake tin with paper cupcake cases.
For the vegan saffron lemon curd:
To make the saffron lemon curd, combine all the ingredients in a saucepan and give everything a good whisk. Cook over a medium heat, whisking all the time until the mixture has thickened to the consistency of custard. The saffron will start to turn the lemon curd a beautiful shade of daffodil yellow. Remove from the heat and allow to cool slightly.

Once the lemon curd has cooled for 10 minutes, directly cover the surface with cling film to stop a hard skin forming. Refrigerate until needed.
For the vegan cupcakes:
Mix together the almond milk and lemon juice in a jug. Allow to stand for ten minutes, until slightly thickened. Stir in the oil.

In a large bowl, whisk together the cake flour, caster sugar, cornflour, baking powder, salt and lemon zest.

Pour the milk mixture into the dry ingredients and beat with a whisk for 1-2 minutes, until you have a smooth batter.

Pour or scoop the batter into the paper cupcake cases, filling to about ¾ of the way up. Give the base of the tin a quick succession of taps on the work surface to remove any large air bubbles.

Place the tin into the pre-heated oven and bake for 18 minutes, or until golden on top and springy to the touch. Remove from the oven and allow to cool completely.
For the vegan meringue:
To make the meringue, place the reduced and chilled aquafaba in a clean stand mixer fitted with a whisk attachment. Add the cream of tartar and whisk on high speed for 3-4 minutes until frothy.

Combine the water, sugar, agave, vanilla and agar-agar in a saucepan and mix until dissolved. Cook over a medium heat, stirring often to stop the syrup catching and burning at the base of the pan. Use a sugar thermometer to check the temperature of the syrup. Once the syrup reaches 120°C/250°F, remove it from the heat and quickly pour it into the still running bowl of the stand mixer. Whisk the mixture for 15 minutes until white and meringue-like in texture.

Use a spoon to remove the centres from the cooled cupcakes and pipe or spoon 2 teaspoons of the chilled lemon curd into the centre. Fill top of the plug with a few cake crumbs.

Fill a piping bag fitted with a large, round tip with the meringue mixture. Pipe the meringue on to the cupcakes. I chose to do a simple pillowy blob but you can also use a star piping tip if you like. If you don't have a piping bag, you can also spoon the meringue on top.

For a toasted finish, use a kitchen blowtorch to toast the tops of the meringues before serving. I do not recommend placing the cupcakes under a grill when using paper cases. If you don't have a kitchen blowtorch and would like to toast the meringue, consider using grill-safe silicone cupcake cases.

Storage: Keep these cupcakes covered and at room temperature for up to 24 hours. Storing them in the refrigerator may cause the meringue to weep liquid and deflate.
Vegan Cake FAQ
Is there a single egg replacer that works for all vegan baking recipes?
There's not a one-size-fits-all answer as the techniques and make-up of different bakes all require different approaches and ingredients. E.g. Mashed banana, flax eggs, chia eggs, psyllium husk and applesauce are fine for vegan bakes like banana cake, dense muffins and crumb cake but they don't work so well in light vanilla cakes. The vegan cake would end up tasting of those ingredients rather than having the light, white, fluffy texture we all want in a good vanilla cake. I also tend to stay away from using these in vanilla cake baking because the results can be a bit too unpredictable.
Can I swap the sugar in the recipe for honey/coconut sugar/agave/sweetener? Can I reduce the amount of sugar in the recipe?
No. Sugar helps proteins bind and form a good structure in cakes. In the absence of eggs, sugar plays a vital role in binding proteins, forming a good crumb and holding the cake together. Using liquid-based ingredients like honey will change the texture of final cake. Coconut sugar and sweetener have a different make-up to regular sugar too and swapping them in place of sugar will also change the final result of the vegan cake.
My eggless cake is tough. Where did I go wrong?
Overworked batter can produce a dense, tough cake. This is the case with all cakes, not just the vegan kind. If you overbeat cake batter, the in the flour gluten develops to unwanted levels and this will result in tough, stodgy vegan cakes.
Can I swap the white cake flour for wholemeal flour?
Technically yes, you could. Having said this, your vegan cake will be darker in colour and heavier than if you were to use a refined white flour. I've found that extra-fine self-raising sponge flour produces the best results by a country mile if you're looking for a fluffy, white vegan cake.
My cakes are dry. Where did I go wrong?
They are overbaked. Ensure you're baking it for the stated time at the correct temperature. Most domestic ovens tend to be a few degrees out but an internal oven thermometer can help ensure your oven is set at the right temperature. If you don't have an internal oven thermometer you could also increase or reduce the cooking time depending on whether your cake is over baking or under baking
Can I add cocoa powder to make this a chocolate cake?
In vegan cakes, an oil-based batter will result in a moist, fluffy cake. I've found that using butter results in a much firmer cake with a larger crumb.
Why does the plant milk need to be at room temperature?
Room temperature milk will ensure the milk and vinegar mixture curdles quickly and adequately. If you're short of time, microwave cold milk from the fridge on high power in 15 second intervals for a total of 30 seconds, stirring in between.
Why add the additional baking powder if you're using self-raising flour?
After a lot of testing, I've found the extra leavening from the baking powder gives the vegan cupcakes an extra lift for a super fluffy result.
Pin this Vegan Lemon Meringue Cupcakes recipe for later!
Did you make this recipe?
Follow me on social media to tell me how you liked this recipe + get extra recipes!
Instagram – https://www.instagram.com/sanjana.feasts
Facebook- https://www.facebook.com/sanjanafeasts

Join my exclusive private Facebook group to get lots of recipe tips and to talk about all things Asian vegetarian food https://www.facebook.com/groups/2625129724379123/
Love Sanjana