My eyes light up whenever I see a bunch of little green bananas in my local market. It means Ugandan Matoke (Spicy Green Banana Mash) is on the menu! They're not the regular unripe green bananas we eat every day. They're Matoke; A staple carbohydrate loved by millions across East Africa and Uganda in particular.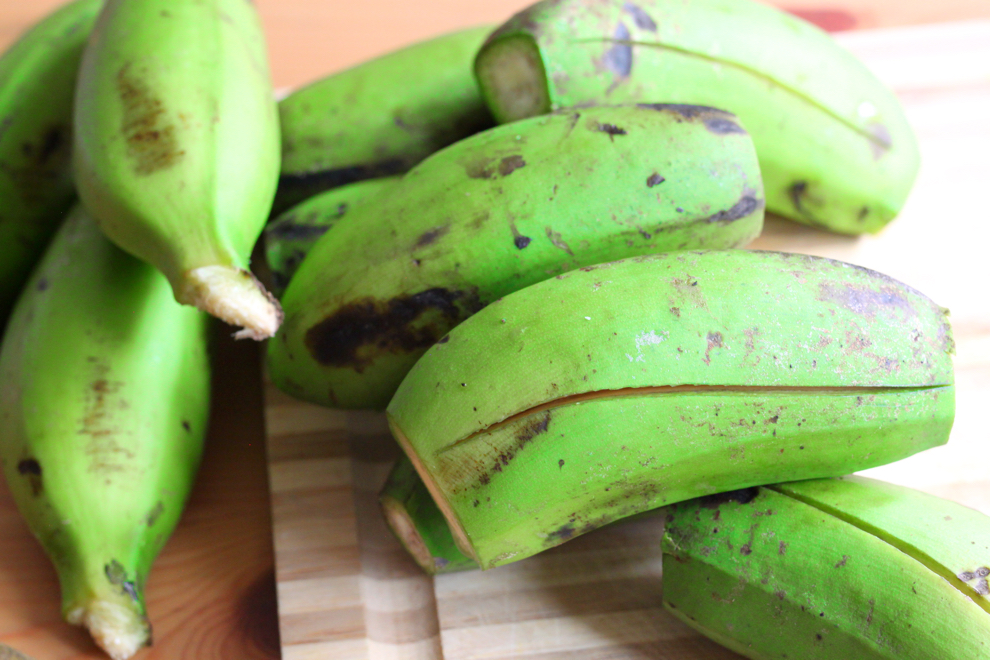 As I spy the bunches of 10-12 little green bananas, I know I'll always need a lot of them to make the dish that's whirring around in my mind. Matoke cook down like spinach and what looks like too much is somehow never quite enough. The dish I'm thinking about is Spicy Ugandan Matoke Mash. A staple curry of green bananas cooked with a handful of spices. My family version sees the Matoke pressure cooked until tender and then mashed with plenty of butter, softened onions, cumin, tomatoes and cinnamon.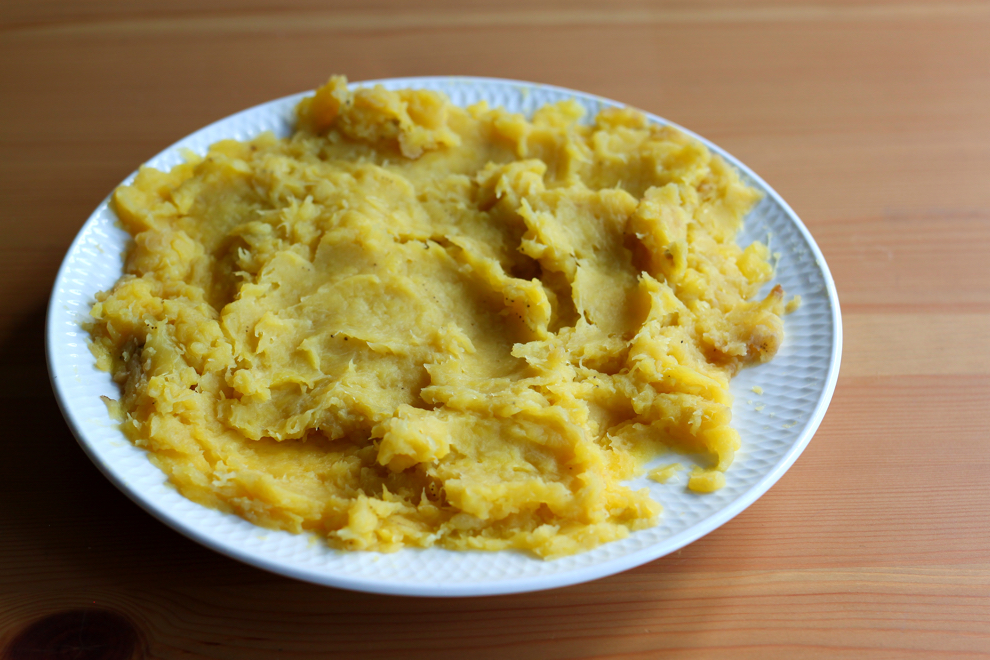 The Indian diaspora in East Africa
The huge South Asian influence on the food culture of Uganda is beautifully-harmonious with the local style of cooking. Because of this assimilation of backgrounds, each dish that now exists is bold, hearty and as interesting as the local communities are. As a result, this Indian-style Matoke is just one way in which green bananas are prepared across Uganda.
It is often cooked simply with tomatoes, turmeric and salt, or added to stews as a filling carb in place of potatoes or cassava.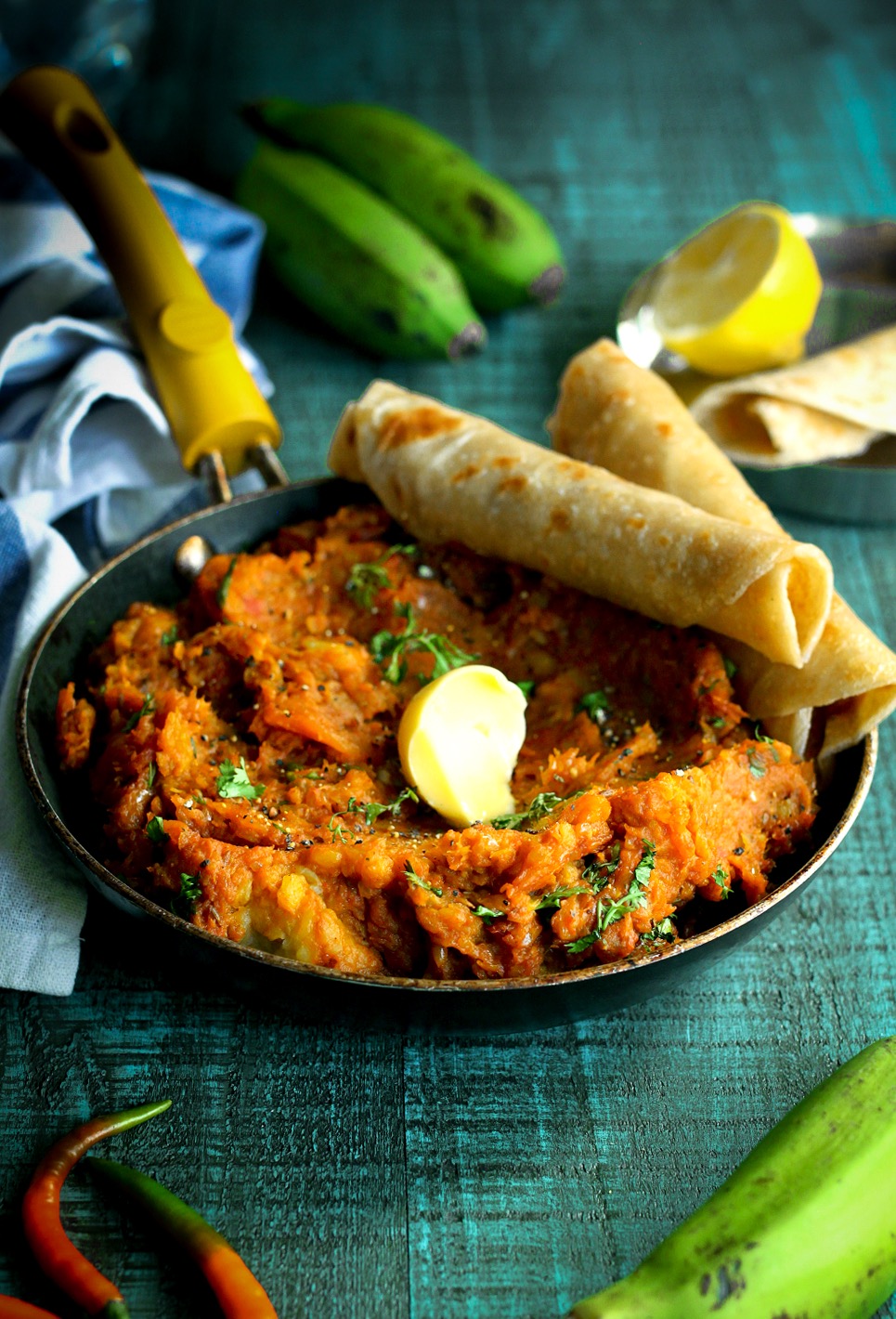 What I love about this Matoke recipe is that it celebrates those little green bananas for being a filling, delicious, staple ingredient in themselves. And they don't taste like regular bananas at all! No need to add fancy ingredients, just a few store cupboard basics. Serve with soft-layered Chapattis (Chapos) and Kachumbari to make it a meal.
Veganise this Ugandan Matoke (Spicy Green Banana Mash)
Vegan? Switch the butter for your favourite vegan butter, Flora for example. Whatever you do, don't be afraid of overdoing the spicing in this dish. You might think I'm mad for adding as much garlic and onions as the recipe calls for but I urge you to stick with it. The Matoke has a great texture but truth be told, it is bland. It needs flavours that can stand up to it so that the final dish is spicy, tangy, buttery and flavoursome. I promise you won't regret peeling all that garlic.
Watch my video below and get the full recipe for this delicious Ugandan Matoke (Spicy Green Banana Mash).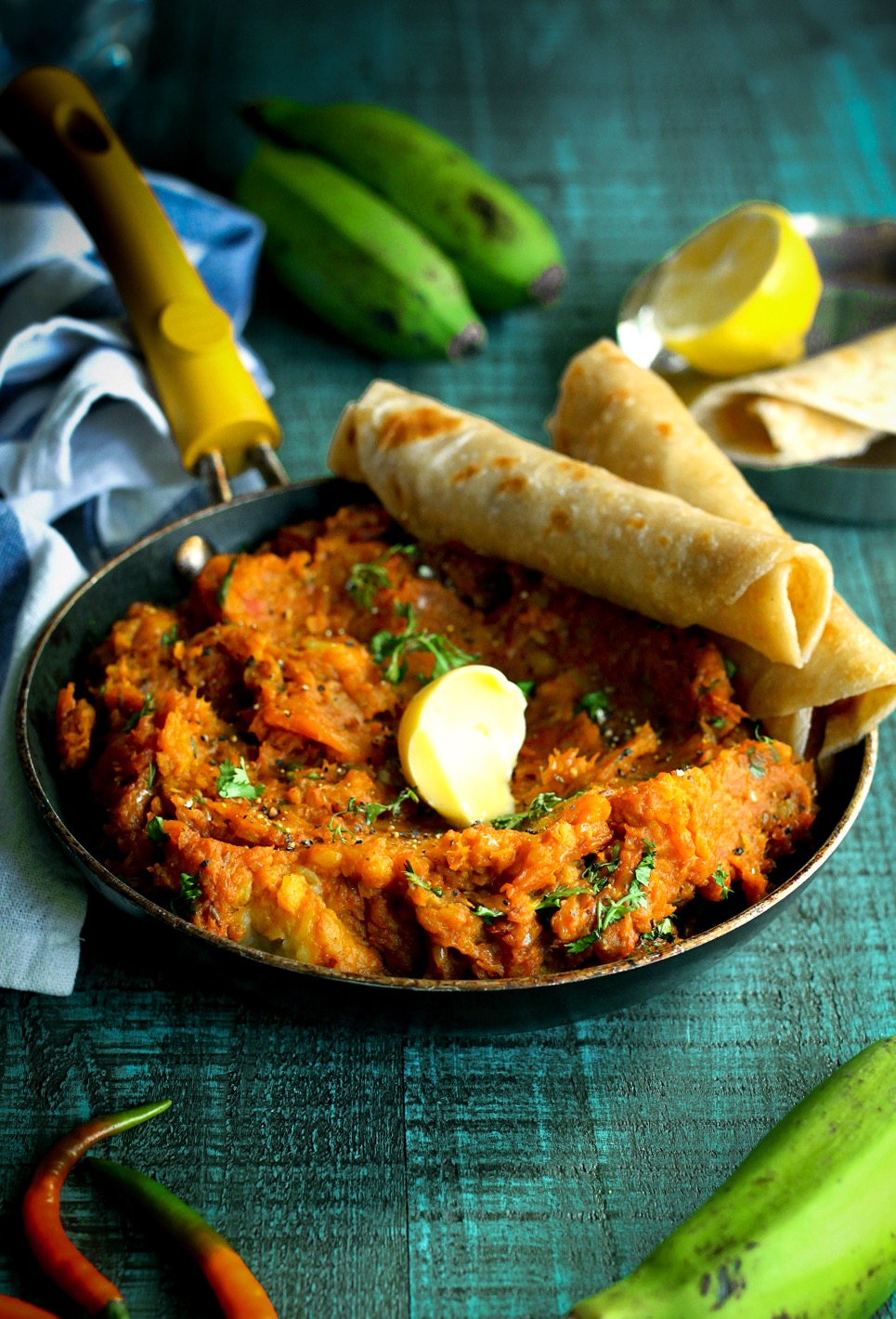 Ingredients
10

Matoke

small green bananas

125

g

salted butter

or vegan butter

2

tsp

cumin seeds

2

large onions

chopped

8

cloves

garlic

2

green chillies

1

tin chopped tomatoes

300g

1

tbsp

concentrated tomato purée

1

tsp

ground cinnamon

2

tbsp

chopped coriander

2

tsp

ground black pepper

Chapos

East African Layered Chapattis, to serve
Instructions
In a large, non-stick pan, melt the butter. Add the cumin seeds and chopped onions. Sauté the onions over a medium heat until lightly golden, about 8 minutes.

Add the garlic, chillies and concentrated tomatoe purée and cook for a further 2 minutes.

Next, add the chopped tomatoes. Cook over a medium heat for 5 minutes.

Top and tail the Matoke. Cut each one in half and slit the skin of each half lengthways. Pop these into a pressure cooker and fill with 500ml water. Pressure cook for 3 whistles and then switch off the heat. If you don't have a pressure cooker you'll need to boil the Matoke in a big pan of water with a lid until tender, about 30 minutes.

Allow the Matoke to cool until you can just about handle them. They need to be hot. This is really important. If you let them cool down too much they will become super starchy and be hard to mash, leaving you with a lumpy finish. Peel the Matoke and mash them with a potato masher until smooth.

Add the mashed Matoke to the tomato and onion mixture and cook on a medium heat for 20 minutes, stirring all the time. The butter should start to separate from the Matoke at the sides of the pan. Now add the cinnamon, salt, lemon juice, black pepper and chopped coriander and mix thoroughly.

Serve immediately with hot Chapos (chapattis).
PIN IT FOR LATER!

Did you make this recipe?
Follow me on social media to tell me how you liked this recipe + get extra recipes!
Instagram – https://www.instagram.com/sanjana.feasts
Facebook- https://www.facebook.com/sanjanafeasts

Join my exclusive private Facebook group to get lots of recipe tips and to talk about all things Asian vegetarian food https://www.facebook.com/groups/2625129724379123/
Psst… If you like this recipe, you'll go BANANAS for this 20-Minute Channa Bateta (Kenyan Chickpeas and Potatoes in Coconut Broth).
Love Sanjana