Learn how to make Perfect Plain White Burfi with me: 9 ingredients and 30 minutes prep and cook time is all you need. This plain milk powder burfi is the Indian mithai recipe my followers request the most.
I think White Burfi has such a simple charm and universal appeal. For some reason, the most basic recipes are often difficult to perfect — for myself too.
What does Burfi mean?
The word burfi or barfi is a Hindi word which stems from the Persian barfī, which literally means 'icy' or 'snowy'. Baraf is the Hindi word for 'ice'.
This traditional Indian sweet carries the name Burfi because of it's cool, melt-in-the mouth texture. If you've ever tried the western retro sweet, coconut ice, you'll be familiar with this concept.
How to make Burfi with milk powder
My recipe here calls for milk powder. In many cases, people use mawa (milk solids) which you can make by reducing full-fat milk. Indeed, you can also buy mawa in many South Asian food shops.
I like to use full-fat milk powder because it is readily available in most shops or online.
What if I can't find full-fat milk powder?
If full-fat milk powder proves to be elusive, you can use skimmed milk powder and simply replace the milk in this recipe with an equal measure of double (full-fat) cream. This simple switch will produce a delicious, creamy Burfi.
Different types of Burfi
There are hundreds of variations when it comes to Burfi. Some are traditional, some more playful and modern. However, in my opinion, most good Burfi ought to begin with a Perfect Plain White Burfi recipe.
Rose Burfi, Pistachio Burfi, Mango Burfi, Cashew Burfi and Almond Burfi are all popular choices in Indian mithai shops. You can make all of these varieties if you know how to create a great basic milk powder burfi.
Each recipe has a little variation, be it nuts, some flavour extract, food colour, dry fruit or food colour.
Some of my favourite Burfi varieties
Besan Burfi
A simple burfi with chickpea flour (besan), milk, ghee and sugar. Cardamom is optional, as are nuts or any other flavours. The toasted besan aroma is the key flavour in this style of burfi.
Note that Besan Burfi and Mohanthal are two different varieties of besan mithai.
You can find my recipe and video tutorial for Mohanthal here.
Chocolate Burfi
Plain burfi with a layer of chocolate on top. In all honesty, the quality of chocolate is usually questionable. It is almost always cooking milk chocolate rather than any of your top notch eating chocolate.
In my opinion, the low-quality chocolate on top of Chocolate Burfi has a certain charm. The flavour of cheap milk chocolate against milky white burfi is my childhood in a bar.
Check out my recipe for Cookie Dough Chocolate Burfi.
Pistachio Burfi
Wow! Pistachio Burfi is a must-have in any burfi box from the mithai shop. It's usually a super artificial shade of green and that's what I love about it. Most mithai shops will add a synthetic pistachio flavouring and scatter crushed pistachios on top.
As much as I love mithai shop pistachio burfi, the kind made with real pistachios is always at the top of my list.
Check out my recipe for Pure Pistachio Burfi.
Why won't my milk powder Burfi set?
If you undercook Burfi, it will not set. Watch my step-by-step recipe video to see what the Burfi mixture should look like before you place it in the tin. If the mixture is too runny, the Burfi won't set and the texture will be rather claggy.
Why is my Burfi chewy?
Burfi can turn chewy if you overcook it. Be sure to cook the Burfi mixture over a very low heat. Stir constantly without stopping. Keep an eye on the texture. It is ready when the mixture forms a slack and cohesive mass that comes away from the sides of the pan easily.
Can you freeze Burfi?
Burfi actually freezes pretty well. Be sure to pack it into an airtight container and freeze for up to 3 months. Defrost at room temperature.
Why is my Burfi sticky?
Sticky Burfi can be down to three separate issues:
The Burfi needs to cook for longer.
Not enough fat in the mixture.
Too much sugar in the mixture.
How to make condensed milk Burfi
A popular method of making Burfi is with condensed milk. This negates the requirement to add sugar, since the condensed milk is sweet enough.
Many recipes simply call for milk powder and condensed milk. While this is a perfectly delicious way to make burfi, the end result is very smooth and Peda like in texture.
Burfi with a melt-in-the-mouth texture and definitive crumbles is my personal favourite.
Is Burfi gluten free?
Yes, this recipe for Burfi is free from gluten.
Is Burfi vegan?
No. Burfi is a typically a dairy-based sweet. Its' core ingredients are: Milk, butter (or ghee) and sugar. Some recipe creators successfully make vegan-friendly Burfi.
Why do you add lemon juice to your Perfect Plain White Burfi?
I add a small amount of lemon juice to the hot burfi mixture at the end of the cooking process. This is a little trick I do to ensure my Burfi is perfectly crumbly. The acidity of the lemon juice curdles the milk proteins ever so slightly.
The result is a Perfect Plain White Burfi that cuts beautifully, yet still has a definitive grainy quality. Pure mithai shop vibes.
Perfect Plain White Burfi: Butter vs. Ghee?
In all honesty, it really doesn't matter. Use whichever one you like best. I like to use butter for its saltiness.
I think all sweets benefit from a touch of salt to bring the rest of the flavours to life. The inherent saltiness of salted butter is perfect in this recipe.
If you can find Indian white butter, that is ideal as it imparts less colour. My yellow European butter gives the burfi a slightly creamy colour.
If you use ghee, add 1/8 tsp of fine salt to the burfi mixture. I promise it makes all the difference!
My Burfi-making essentials
Perfect Plain White Burfi recipe
Equipment
L30 x W20 x D5cm (13"x9") rectangular traybake pan
Ingredients
240

g

sugar

300

ml

whole milk

130

g

salted butter

595

g

full-fat milk powder

1

tsp

ground cardamom seeds

12-15

saffron strands

1

tsp

vanilla extract

1

tsp

lemon juice

20

g

pistachios

Edible silver or gold leaf

optional
Instructions
Line a L30 x W20 x D5cm (13"x9") rectangular traybake pan with baking parchment. Scatter over some sliced pistachios or pistachio nibs.

Heat the milk in a large, non-stick pan. Add the butter and allow it to melt.

Add the sugar and stir until it has completely melted and you can no longer feel the crystals at the base of the pan.

Tip in the milk powder and stir well to combine. The mixture will become thick, like mashed potato in appearance.

Cook the mixture over a very low heat, stirring all the time to ensure it doesn't catch and burn on the base of the pan.

Once the burfi mixture begins to come away from the sides, at about the 5 minute mark, add the lemon juice, vanilla extract, cardamom and saffron. Continue to stir for a further 2 minutes.

Around the 8 minute mark, the burfi mixture should be thick. Once it forms a soft mass that comes away from the sides of the pan and into a ball, it is ready.

Spoon the mixture into the prepared tin lined with baking parchment and pistachios. Press the mixture in with a rubber spatula, ensuring the surface is as even as you can get it.

Allow to cool to room temperature. Cover a refrigerate for 30 minutes before turning out. The baking parchment will come away easily. Decorate with silver or gold leaf (optional). Cut into squares and serve at room temperature.
Sanjana's Notes
If your burfi begins to develop brown spots in places, it means either the heat is too high or you're not stirring it enough. Keep it moving all the time to prevent burnt milk flecks.
This burfi keeps well in an airtight container for up to a week. Keep refrigerated and allow to come to room temperature before serving.
Burfi served cold from the fridge will be much firmer in texture.
Pin this Perfect Plain White Burfi for later!
If you like this, you'll love my recipe for Mohanthal
Recipes similar to Perfect Plain White Burfi
Eggless Gulab Jamun Cake
This simple, yet beautiful cake sees the queen of Indian sweets transformed into an easy-to-make dessert. Rose, cardamom and saffron give the syrup-glazed sponge its iconic "gulab jamun" flavour. Serve it with ice cream for a truly royal pudding, or enjoy a piece with masala chai.
Check out this recipe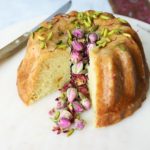 Pistachio Burfi
An easy recipe for melt-in-the-mouth Indian milk fudge (burfi) made with REAL PISTACHIO. Perfect for gifting. Your family and friends will love it!
Check out this recipe
Indian-Inspired Rocky Road
Truffle-like chocolate studded with pistachios, almonds, dried mango, crystallised ginger, Turkish delight, mini marshmallows and spiced shortbread biscuits. Dried rose petals top the Rocky Road off beautifully.
Check out this recipe

Love Sanjana