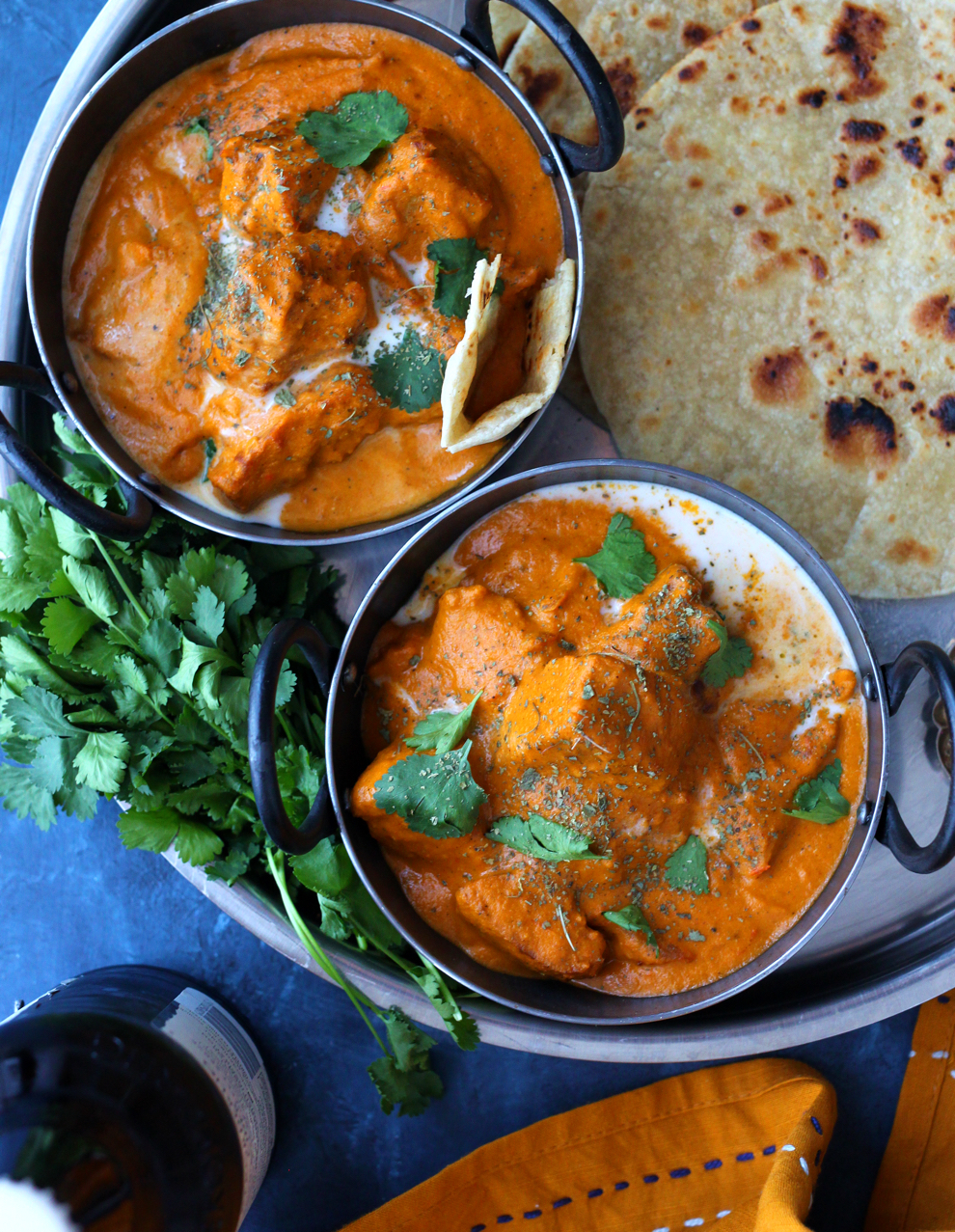 This Vegan Butter Chick'n Curry is CRAZY, BONKERS DELICIOUS! Yes, you read the title correctly and no, this is not a drill. I've been experimenting with my Vegan Butter Chick'n recipe for a VERY long time. After dozens of iterations, I'm finally ready and so excited to share it with you.
The secret to perfect Vegan Butter Chick'n Curry
There are multiple components to get right here; the seitan chicken needs to be firm, pullable and flavoursome without being overpowering. The colour should to be light inside, not brown. Next, the sauce. Perfect Butter Chicken sauce is the holy grail of modern North Indian cooking and everyone has their own way of doing it. It's one of the most popular restaurant dishes around the world because of its subtlety and simplicity. It's not always easy to find that balance.
How to make Vegan Butter Chick'n Curry extra creamy
I've switched the butter in my Vegan Butter Chicken with almond butter which lends a rich, creamy texture to the fresh tomato sauce. Having said this, y could also use cashew butter if you prefer that. A touch of coconut milk mellows out the spices and finishes the dish perfectly. I'd highly recommend using a high-powered blender, such a NutriBullet to blend the sauce.
Sieve the sauce!
For the silkiest sauce possible and a true restaurant-style Butter Chicken finish, pass the sauce through a sieve or food mill to strain away unwanted tomato seeds and skin, as well as any coarse spices. You don't want rogue spices ruining your heavenly Vegan Butter Chicken experience.
Stockpiling vegan chick'n pieces 101
If like me, you need a Vegan Butter Chicken experience once a week, you can always double up on quantities and stow it away in the freezer to assemble later. For example, I keep seitan pieces in a ziplock-type (for example) bag in the freezer. You can keep it frozen for up to 3 months.
Indeed, you can also freeze sauce portions. The sauce can also be used for other curries, such as butter tofu or mixed veggies. The protein-packed seitan pieces are great in stir fries, salads, pasta, wraps and more.
Equipment
Pressure cooker

High-powered blender
Ingredients
300

g

extra-firm tofu

400

g

tin any white beans inc. liquid from tin

such as haricot

150

g

vital wheat gluten

150

ml

cold water

2

tbsp

nutritional yeast

2

tsp

white miso paste or MSG

optional

1

1/2

tsp salt

or 1 vegan chicken-style stock cube (such as Massel)

3

tbsp

sunflower or vegetable oil
Instructions
In a high-powered blender, combine the tofu, haricot beans in their liquid, miso paste (or msg), salt, nutritional yeast, oil and water until you have a smooth paste.

Add the vital wheat gluten to the bowl of a stand mixer fitted with the paddle attachment. Add the tofu mixture and mix on a low speed until the two come together in the form of a dough.

Switch the paddle attachment to a dough hook and mix on a medium/high speed for 10-12 minutes. Stay close by as the mixer may shuffle across the counter top as the dough is tough to work. You'll also need to be very careful your mixer's motor doesn't burn out. This kneading of the dough is crucial in developing the gluten and proteins in the seitan and shouldn't be skipped. The longer and harder you work it, the more fibrous and chicken-like the final product will be.

Once your seitan has been kneaded long and hard, remove it from the mixer and cut it in half. Wrap each "loaf" very tightly in 3-4 layers of heavy-duty foil. You want it to be nice and compact inside to stop it expanding inside as this will promote sponginess rather than the shreddable texture we're after. The multiple layers of foil will also stop water getting inside.

Next, fill a pressure cooker with plenty of water (about 3/4 of the way full) and bring to a boil. Carefully drop your seitan into the cooker and put the lid on. Cook on a medium/high heat for 40 minutes. Once the time is up, switch off the heat and leave it to cool completely.

Once cool, remove the seitan parcels from the cooker and refrigerate for at least 8 hours or up to 48 hours.

Unwrap and check out that amazing texture when you pull it apart. Your seitan is now ready to use in your favourite vegan chicken recipe.
Sanjana's Notes
I wouldn't recommend making this recipe by hand as your arms might threaten to fall off. Even Arnold Schwarzenegger would struggle, seriously. Having said this, you can create seitan kneading by hand – it will not however, have a shreddable, "pulled" quality and you'll finish up with a spongy end product instead. It'll still taste good but probably won't fool your meat-eating friends.
If freezing the seitan chick'n, keep it in an airtight container and use within 3 months.
Kudos goes to the brilliant Skye Michael Conroy and The Seitan Appreciation Society on Facebook who are generous enough to share their wonderful passion, tips and recipes. The addition of beans to this recipe was inspired by the Avocados and Ales Chickwheat recipe. Thank you.
Shall we get on with the curry then?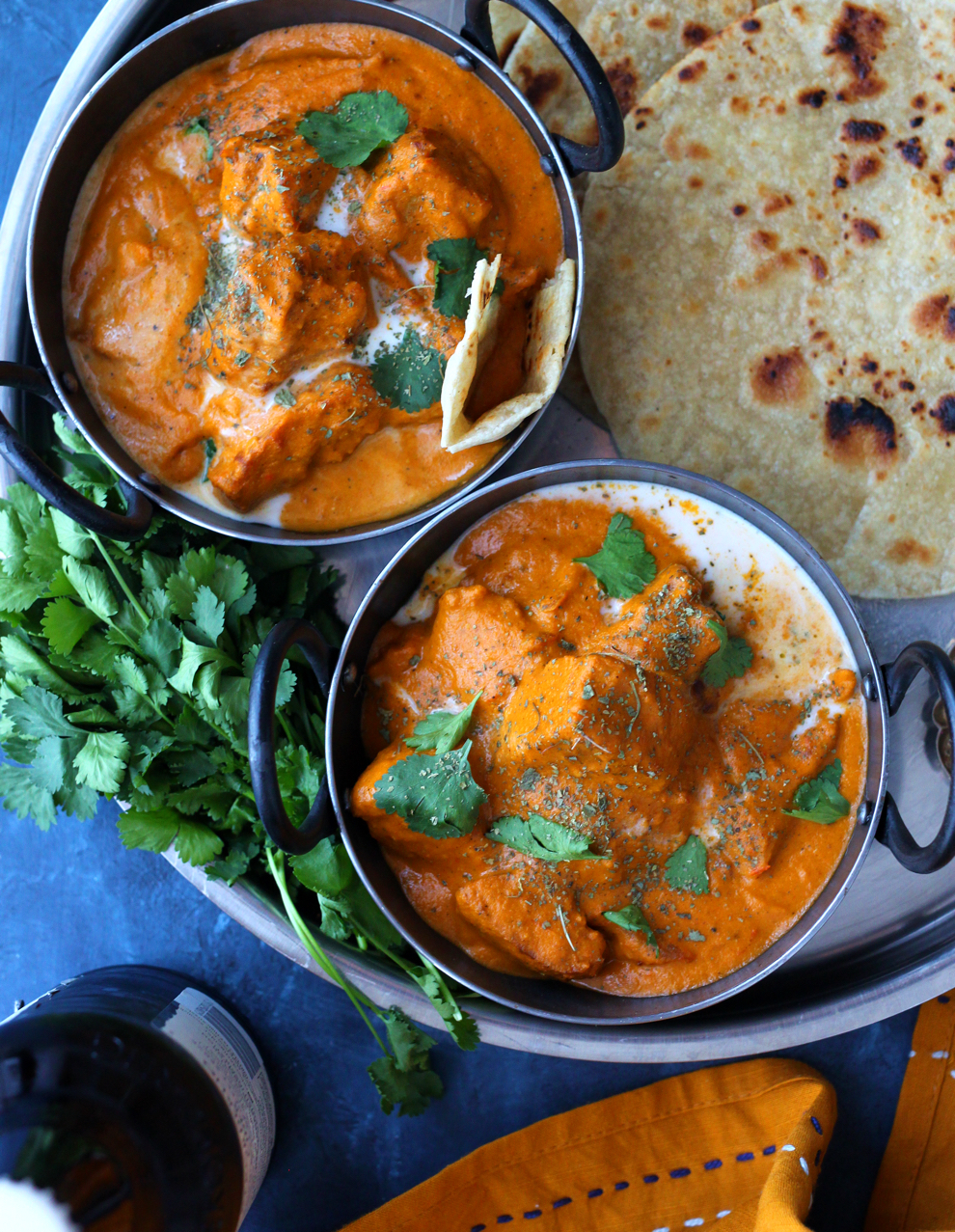 Ingredients
For the seitan chick'n marination
1

kg

seitan chick'n, cubed

recipe above

2

tbsp

any flavourless oil

such as sunflower or vegetable oil

1

tsp

chilli powder

Kashmiri chilli is best

1/2

tsp

turmeric

2

large cloves garlic

crushed

2

cm

piece of ginger, peeled and grated

1

tsp

ground fennel seeds
For the butter chick'n curry
2

tbsp

your favourite vegan butter

1

large

onion

chopped

4

large

cloves garlic

chopped

2

cm

piece of ginger, peeled and grated

1/4

tsp

kalonji seeds

nigella seeds

2

hot red chillies

chopped

1

tbsp

concentrated tomato paste

400

g

fresh tomatoes

chopped

1

tbsp

ground coriander seeds

2

tsp

garam masala

1

tsp

ground cardamom seeds

from 4-5 green cardamom pods

1

tbsp

smooth almond butter

200

ml

coconut milk

plus more for drizzling on top

2

tsp

kasoori methi, rubbed between your palms until fine

plus more for garnishing

1

tbsp

light brown sugar or agave

1 1/2

tsp

salt

2

tbsp

fresh coriander

chopped
Instructions
To marinate the seitan pieces
Combine the ingredients for the seitan marinade until smooth. Add the seitan chicken pieces and gently mix until coated. Cover with cling film and refrigerate for 30 minutes.

Heat the oil in a non-stick frying pan and carefully add the seitan chicken pieces. Cook until golden on all sides. You might need to do this in batches to avoid overcrowding the pan. Place the pieces onto a plate and set aside whilst you make the sauce.
For the butter chick'n curry
Heat the oil in a large non-stick pan. Add the nigella seeds and chopped onion. Sauté until translucent. Next, add in the ginger, garlic, chillies and tomato paste. Cook for 2 minutes.

Add in the fresh tomatoes, ground coriander seeds, garam masala, ground cardamom seeds, almond butter, coconut milk, kasoori methi and brown sugar or agave. Give everything a thorough stir and cover with a lid. Cook for 10-15 minutes on a medium heat. Remove from the heat and allow to cool.

Transfer the tomato mixture to a blender and blend until very smooth. Strain the mixture through a sieve, back into the same pan. Season with salt to taste. Switch the heat back on and add the golden seitan chicken pieces. Bring to a gentle boil and simmer for 5 minutes with the lid on. Garnish with fresh coriander, more kasoori methi and a splash of coconut milk, if desired.
Sanjana's Notes
Keep refrigerated and eat within 48 hours.
Leftovers can be frozen the day the curry is made. Transfer to an airtight container and freeze for up to 3 months. Defrost at room temperature and ensure the curry is piping hot before serving.
Pin it for later!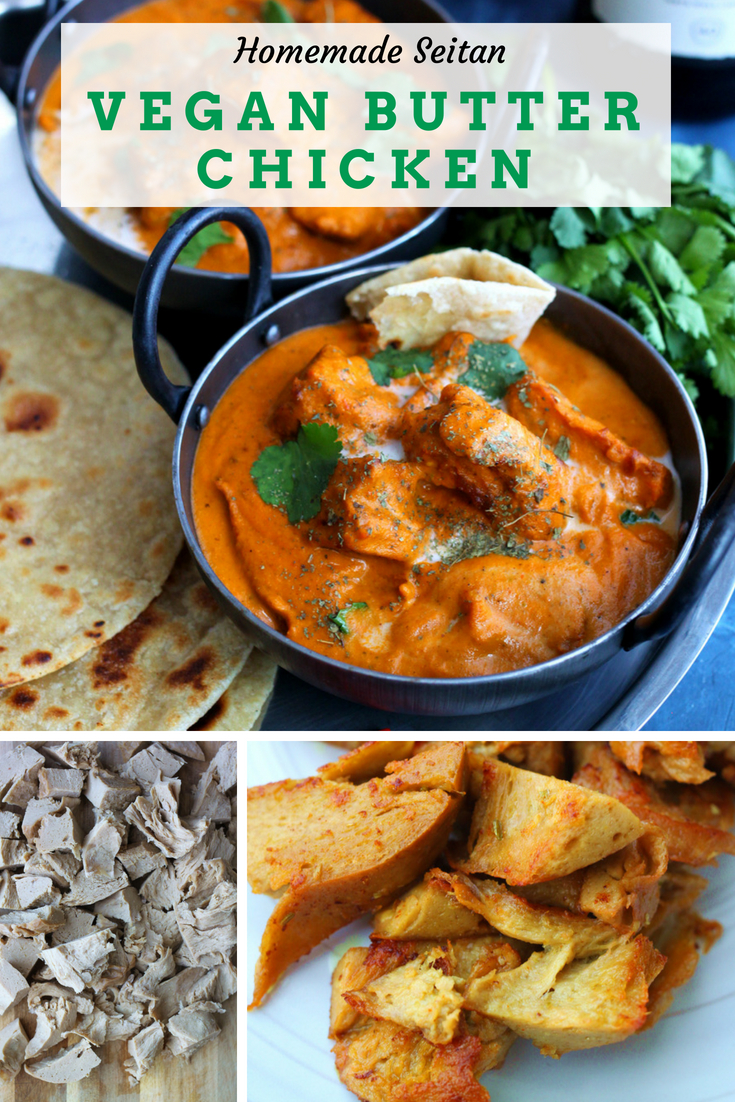 Did you make this recipe?
Follow me on social media to tell me how you liked this recipe + get extra recipes!
Instagram – https://www.instagram.com/sanjana.feasts
Facebook- https://www.facebook.com/sanjanafeasts

Join my exclusive private Facebook group to get lots of recipe tips and to talk about all things Asian vegetarian food https://www.facebook.com/groups/2625129724379123/
Psst, if you like this, you'll LOVE these Vegan Crispy Chick'n Burgers.
Love Sanjana