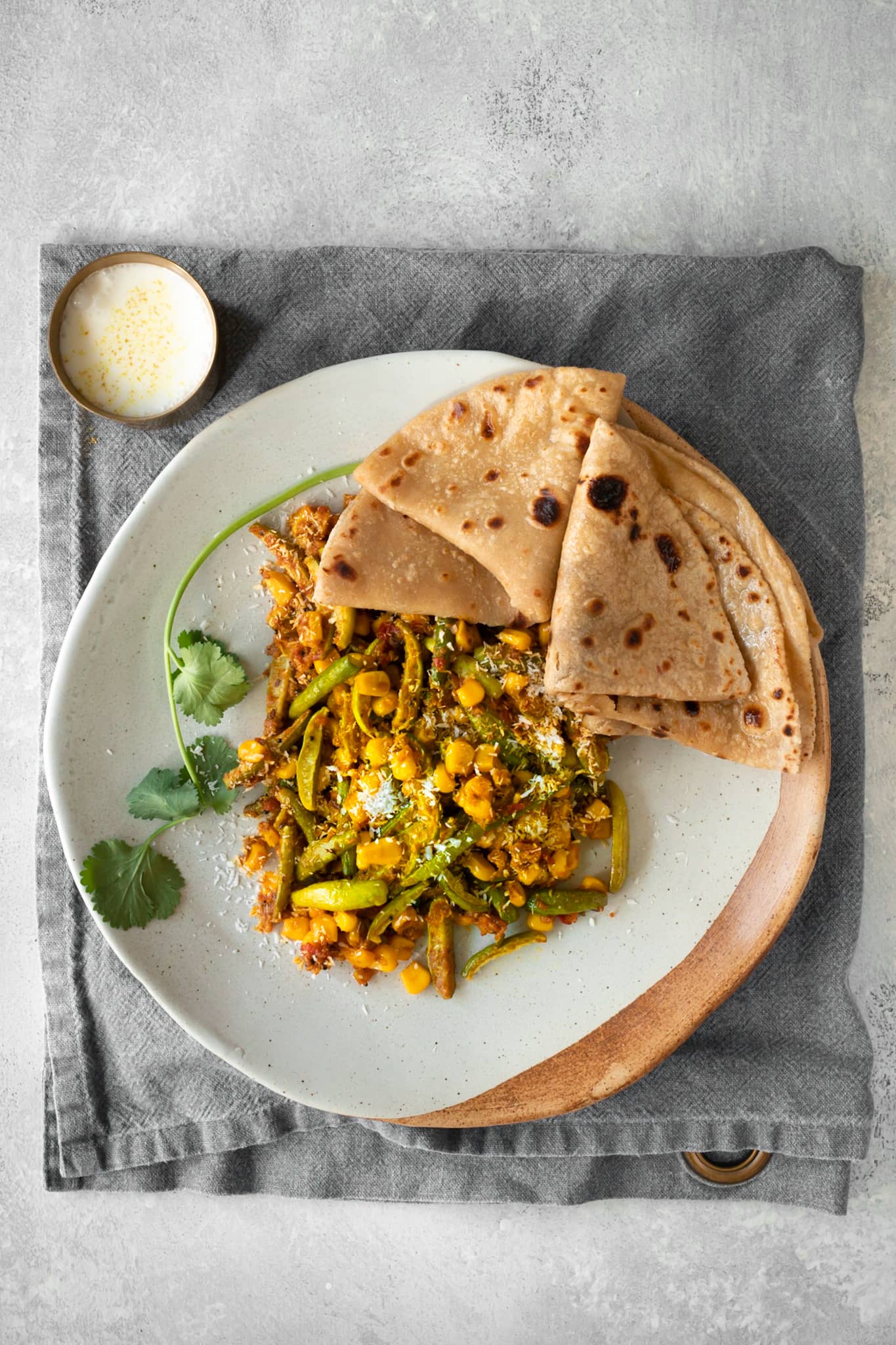 A truly home-style 30-Minute Tindora Curry with Corn to feed the whole family. This simple, dry curry with ivy gourd and corn is delicious with roti, paratha or rice.
If you're on the hunt for a minimal-effort curry recipe to add to your weeknight meal rotation, you're in the right place.
What are Tindora?
Ivy Gourd. This member of the gourd family is usually no larger than the average pinky finger. It's most popular in southern Indian states but is a common vegetable across Indian cookery.
The skin of Tindora is thin and the flavour very subtle. Inside, you'll find lots of small seeds but far less moisture than most gourds. This means that once you cook the Tindora, they retain their crunch.
While it's a popular ingredient in Indian cuisine, it's important to note that Ivy Gourd is used in cuisines from Africa to East Asia and South East Asia.
What are the different names for Tindora?
Tindora is the Gujarati name for Ivy Gourd. They're also known as Tendli (तेंडली) in Hindi, Dondakaya in Telugu and Kovai in Tamil. Almost every local community in India have their own name for this popular little gourd.
What's a gourd?
Think courgette (zucchini), squash, pumpkins, cucumbers and melons). Tindora are firm to the touch and have a smooth, shiny surface.
How to choose Tindora in the shop or market
I have the fondest memories of choosing vegetables in the local Indian shop with my mother.
She would explain to me the difference between a fat aubergine and a skinny one, a limp okra and a firm one, and why we always choose the most slender roots of ginger.
To choose the best Tindora, you must look for small gourds, no larger than the average pinky finger. It should be very firm, with a shiny and smooth skin.
Try to choose Tindora with a pale skin. This indicates that they are young and tender. The fatter they are, the more likely they are to contain a large amount of seeds. This means they're older and may be holding more water. This in turn, can make the Tindora bitter.
Are Tindora the same as Parwal?
Not quite. Tindora have a thin and smooth skin and rounded ends, while Parwal (pointed gourd) have a thicker, rougher skin and as the name suggests, pointed ends. They do however, come from the same family.
Tindora tend to be smaller in comparison to Parwal. The skin of Parwal is often scraped or peeled before cooking to remove some of the toughness. Parwal is a favourite in Punjabi cuisine.
What can I use instead of Tindora?
While Tindora are unique in their texture and shape, a similar result can be achieved using young courgette (zucchini). Cut them into 4cm x 1cm batons and cook in the same way as Tindora in this recipe.
Texturally, the final result won't be exactly the same but the flavours will be a close match.
What's the best way to cook Tindora?
With very little water. I find a quick shallow fry is the best way to achieve a deliciously tender, yet crunchy texture when it comes to Tindora. You can drain away excess oil once they're cooked.
What type of corn should I use for this curry?
I use tinned because I always have a tin of sweetcorn in the cupboard. It's what makes this curry the perfect weeknight dinner. If you have fresh corn, feel free to cook that and add it in. Indeed, frozen corn also works a treat.
Why do you add chickpea flour to this curry?
Chickpea flour (besan) gives this dish a dry finish. It's a light dish served without sauce. I also love the toasted, nutty flavour the chickpea flour gives the curry.
Is this 30-Minute Tindora Curry with Corn suitable for vegans?
Yes, this easy curry is both vegetarian and vegan.
Is this curry gluten free?
My 30-Minute Tindora Curry with Corn can be gluten free if you leave out the asafoetida (hing). Why? Because wheat flour is a common additive in commercial brands of asafoetida.
Having said this, asafoetida in its pure form is naturally gluten free. If you happen to come across pure asafoetida, simply crush it in a pestle and mortar or grate using a microplane for an asafoetida that's suitable for gluten-free cooking.
How to serve this easy weeknight curry
Serve this Tindora Curry with roti, phulka, paratha or rice. It's lovely as it is for a low-effort midweek meal. Although you could kick things up a notch and serve this dish as part of a larger thali or tiffin.
Just add your favourite daal, raita, pickle and sweet dish to the spread. When I serve this as part of a big meal, I pair it with:
My essentials for this recipe
Amazon Affiliate links. These are all products I have purchased of my own accord and ones that I use myself. None of the products mentioned have been gifted to me. By using an affiliate link, I receive a small commission at no expense to you. This commission helps to support this blog. Thanks in advance if you choose to make a purchase through these links!
How to make 30-Minute Tindora Curry with Corn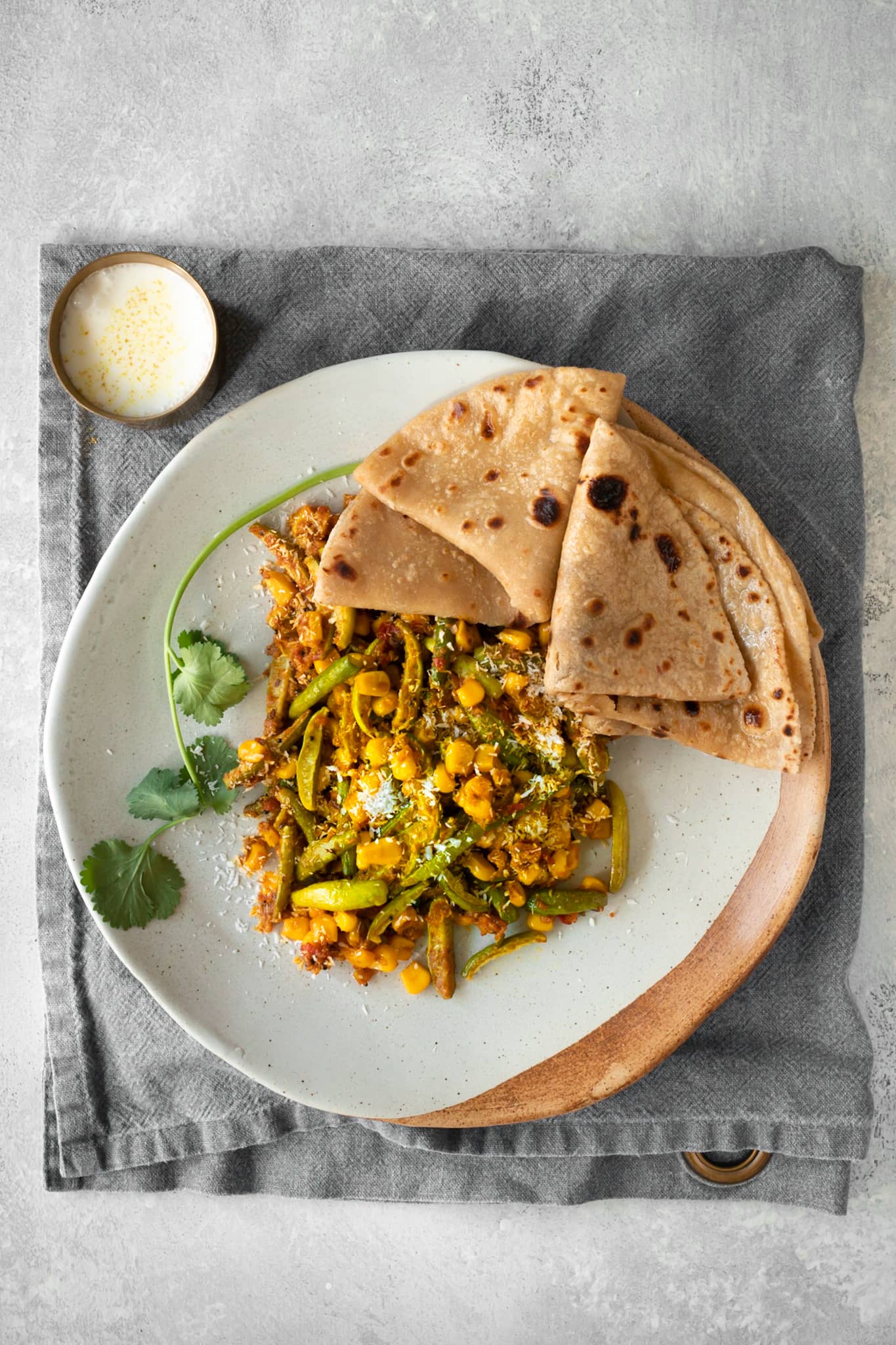 Ingredients
450

g

tindora (ivy gourd/tendli/dondakaya)

285

g

cooked sweetcorn

I used tinned but fresh or frozen are fine too

2

large fresh tomatoes,

diced

1

tsp

tomato purée

3

cloves

garlic

peeled and crushed

50

ml

any cooking oil

1

tsp

black mustard seeds

1

tsp

cumin seeds

2

tbsp

chickpea flour (besan)

1

tsp

ground turmeric

1/2

tsp

ground fennel seeds

1/4

tsp

asafoetida

1

tsp

Kashmiri chilli powder

2

tsp

ground cumin & coriander seeds (dhana-jeeru)

3/4-1

tsp

salt

1/2

tbsp

unsweetened desiccated coconut

optional
Instructions
To prepare the tindora:
Wash the tindora well in cold water. Dry them in a clean tea towel. Top and tail the tindora, removing only a small amount of the ends. Slice the tindora in half lengthways and then into quarters in the same direction.

Heat the oil in a large pan. Once hot, add the sliced tindora. Stir fry the tindora in the oil, stirring all the time until tender and very slightly golden. Don't overcook the tindora – they should retain some crunch. This will take 5-6 minutes over a moderate heat. Remove the tindora from the pan using a slotted spoon and drain in a colander or plate lined with kitchen towel. Set aside.
To make the curry:
Remove all but 1 tbsp oil from the pan. Add the mustard seeds and cook until they pop and crackle. Once the dance of the mustard seeds subsides, turn the heat down to low and add the cumin seeds and asafoetida. Sauté briefly, about 10 seconds.

Add the chickpea flour and sauté for a further 20 seconds. The chickpea flour will turn a few shades darker, rather like a light caramel colour and give off a nutty aroma. Immediately add the tomatoes and garlic. Cook for 1-2 minutes.

Now add the dry spices: ground cumin and coriander seeds, ground fennel seeds, chilli powder, ground turmeric and salt. Stir well to incorporate all the dry spices. If the mixture feels very dry, you can add a splash more water to moisten and prevent the spices from burning. Be sure not to add too much water as this is a dry-style curry. Stir all the time.

After 2 minutes, add the cooked sweet corn and stir, cooking over a moderate heat for 1-2 minutes. Next, add the cooked tindora and fold the sweetcorn masala into it so everything is well coated. Cook this for an extra 2-3 minutes to heat everything through.

Garnish with fresh coriander and optional desiccated coconut. Serve hot with rotis, phulka, paratha or rice.
Sanjana's Notes
This curry is suitable for freezing. To freeze, pack the cooled curry into a freezer-safe container and cover with a tight-fitting lid. Freeze for up to 3 months. Defrost at room temperature and heat through until the curry is piping hot before serving.
Store leftovers in an airtight container in the fridge. Consume within 48 hours.
If you can't find tindora, try making this curry with young courgette cut to the same size, about 4cm in length.
Pin this recipe for later!
If you like this, you'll love my recipe for Matar Paneer Rice
Love Sanjana