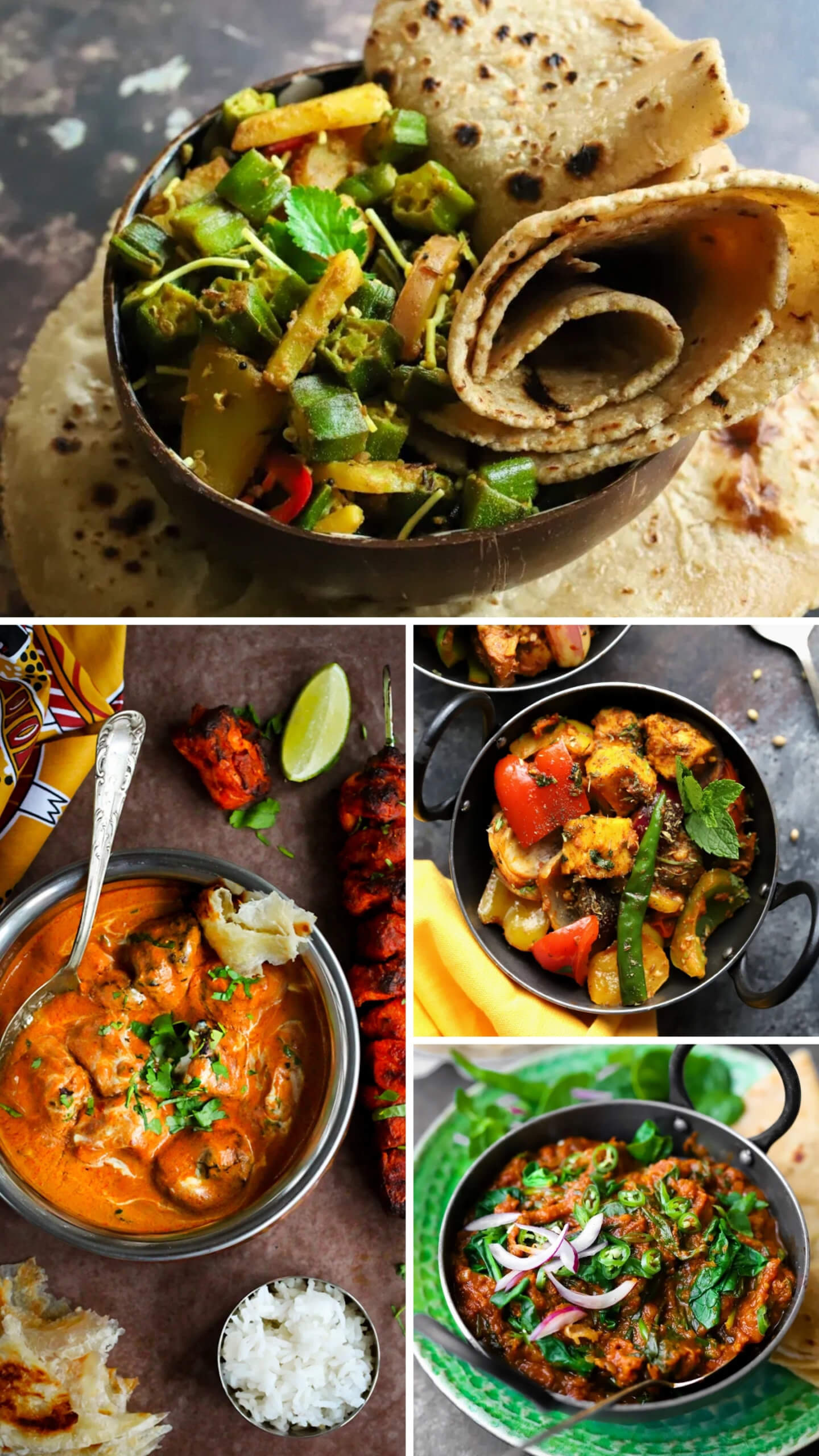 Here are my 10 favourite easy veg curries for roti. From simple classics like Gujarati Okra and Potatoes, to contemporary Tofu Tikka Masala, these vegetarian curry recipes are as delicious as they are simple.
Try one of these tasty veg curries for roti for dinner tonight. Either serve as they are, or include a daal option.
You can also double up and choose two complimentary curries from the list to create a larger meal.
In Indian homes, we often choose lentils or legume curries or daals to serve alongside vegetable dishes. This rounds off a meal wonderfully and adds welcome protein.
What is Roti?
Everyday curries take centre stage in traditional Indian homes. They're typically served with wholewheat chapatis, also known as roti.
Roti are hearty and simple to prepare, although round rolling is a skill that takes practice.
How to make Roti dough
Make the dough with a combination of wholewheat flour (atta), water and optional oil. I like to add a little oil for softer rotis, but you can skip it if you don't mind them a little chewier.
Some families like to roll their rotis extra thinly to make phulka, which they sometimes place over an open flame to rise.
Having said this, I usually cook my rotis on a steel tawa from start to finish. A frying pan also works well.
I'll include my simple Homemade Gujarati Roti (Rotli) recipe at the end of this post, along with a fabulous Soft Spinach Roti (Chapati) if you're a fan of the green stuff.
Ready to be inspired with some easy and delicious vegetarian curry recipes?
10 Easy Veg Curries for Roti
1. Gobi Bhurji (Scrambled Cauliflower)
2. Bateta nu Shaak (Potato Curry, Dry Style)
3. Vegetable & Coconut Milk Kurma (South Indian Style)
4. Quick & Easy Palak Paneer
5. Kadai Tofu & Vegetables
6. Rajma (North Indian-Style Kidney Bean Curry)
7. Okra & Potato Sabzi (Gujarati-Style Bhinda & Bateta nu Shaak)
8. Palak Baingan ka Bhartha (Burnt Aubergine & Spinach Curry)
9. Creamy, Restaurant-Style Matar Paneer
10. Tofu Tikka Masala
So you have my top 10 Easy Veg Curries for Roti… but how do you make the Roti?
10 Easy Veg Curries for Roti are of course, incomplete without Roti. Here are my two favourite versions of the classic soft rotis.
It's everyday fare that partners perfectly with any of the curries I've shared above.
Enjoy these amazing Indian vegetarian curry recipes! If you make one, please share pictures with me via Instagram. I love to see your creations! Mention me @Sanjana.Feasts and use the hashtag #SanjanaFeasts
Pin this collection of 10 Easy Veg Curries for Roti to your Pinterest boards for later!
Love Sanjana